97.9 The Hill WCHL and Chapelboro.com are your headquarters for local news and local voices in Chapel Hill-Carrboro. Every weekday morning, 97.9 The Hill's Aaron Keck chats with government officials, UNC scholars, business and nonprofit leaders, area musicians, and others in our community as they share their thoughts, their experience, and their expertise on the central issues of today. Click here to listen back to all of Aaron's conversations – and tune in to "This Morning with Aaron Keck" at 7:30 a.m. on 97.9 The Hill to hear those conversations live.
---
Back-to-school time is the perfect time to teach your kids (and yourself!) about how to manage their money. The North Carolina Public Interest Research Group (NC PIRG) has just published "What to teach teens and young adults about money, bank accounts, credit cards and more," with 11 tips ranging from savings accounts to credit cards to online security.
Click here to read the full report.
Aaron discussed the report with NC PIRG Education Fund State Director Katie Craig.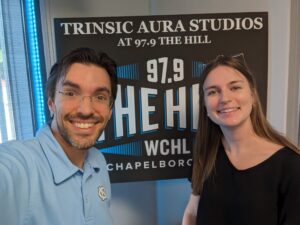 Listen:
Podcast: Play in new window | Download
Subscribe: RSS