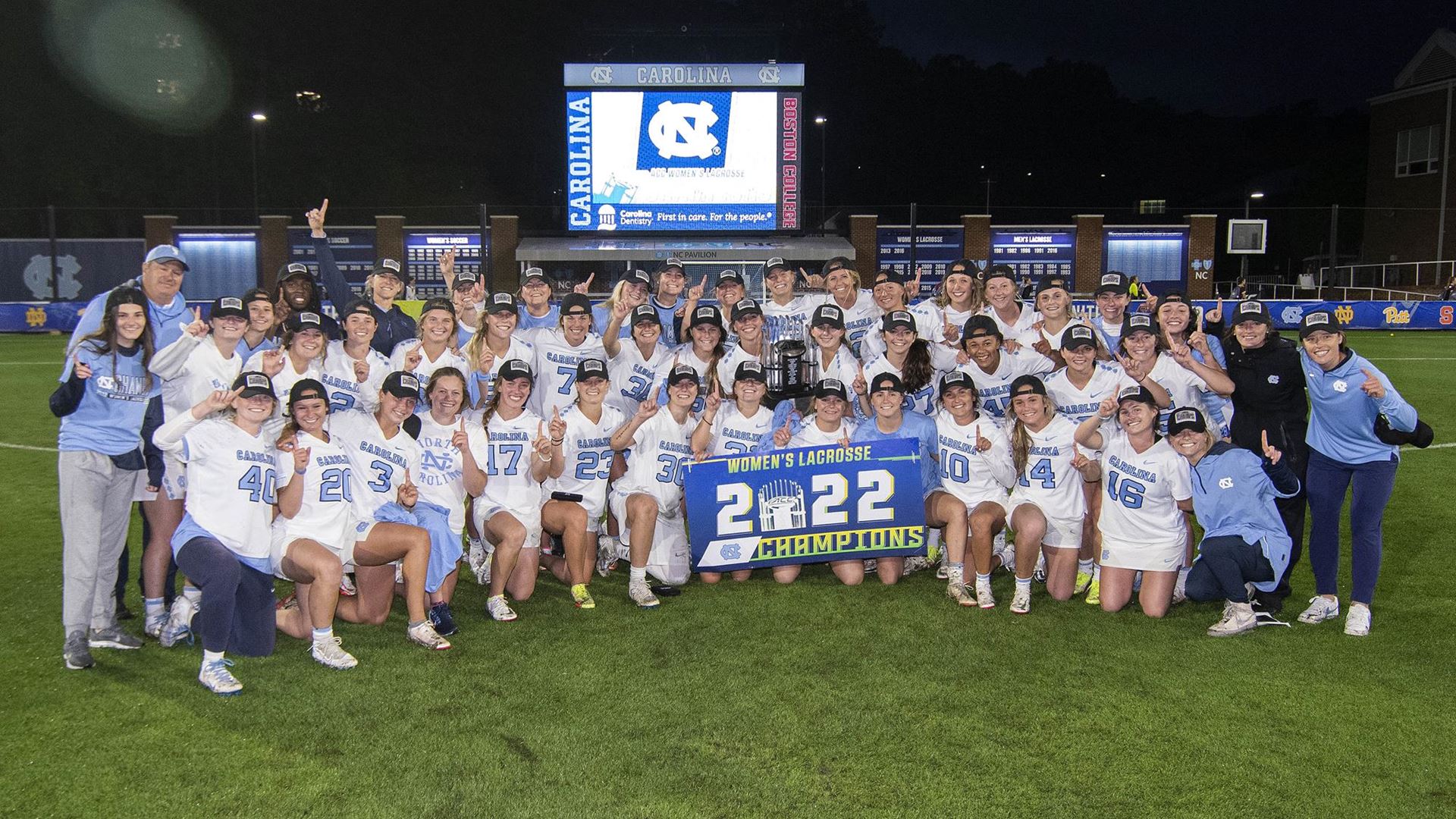 The No. 1 UNC women's lacrosse team used a dominant third quarter effort to dispatch Boston College at Dorrance Field Saturday evening and win its sixth consecutive ACC Tournament title. The Tar Heels also remained undefeated on the season.
Six in a row!

The Tar Heels win their sixth consecutive ACC title.#GoHeels 🐏🥍 x @wellsfargo pic.twitter.com/cAJU74KWL6

— UNC Women's Lacrosse (@uncwlax) May 8, 2022
In a rain-soaked afternoon, the Tar Heels and Eagles slogged through a low-scoring first half, one which saw Boston College leading 6-4 at halftime. The Eagles led by as many as three goals before Scottie Rose Growney got Carolina back to within two with 4.4 seconds remaining in the half with her 10th goal of the ACC Tournament.
That score proved to be a harbinger of things to come, as it kicked off a game-changing 11-0 run for Carolina, one which stretched into the early moments of the fourth quarter. During the run, Ortega scored to give her 446 points all-time, which is a new ACC record. She was named ACC Tournament MVP.
Ortega finished the game with a team-high nine points, including a season-high five assists. Growney would end up tying Ortega with four goals, including three in the second half.
By the end of the run, the Tar Heels had turned a competitive game into a 14-6 blowout with just 11:42 to go. It was academic from there, as Carolina moved into clock-killing mode and the Dorrance Field crowd began to celebrate.
The 16-9 win extended UNC's ACC Tournament winning streak to 18 games, which is already a conference record. It also gave head coach Jenny Levy her seventh conference title with the Tar Heels, moving her into sole possession of first place in ACC history. It is also Carolina's 38th win in its last 39 games overall.
Now 18-0 in 2022, the Tar Heels will be the No. 1 overall seed in the NCAA Tournament later this month. The brackets and seeds will be announced Sunday night. Carolina will attempt to reach the Final Four for the fourth straight NCAA Tournament, and take its first national championship since 2016.
Featured image via UNC Athletic Communications/Jeffrey A. Camarati
---
Chapelboro.com does not charge subscription fees, and you can directly support our efforts in local journalism here. Want more of what you see on Chapelboro? Let us bring free local news and community information to you by signing up for our biweekly newsletter.