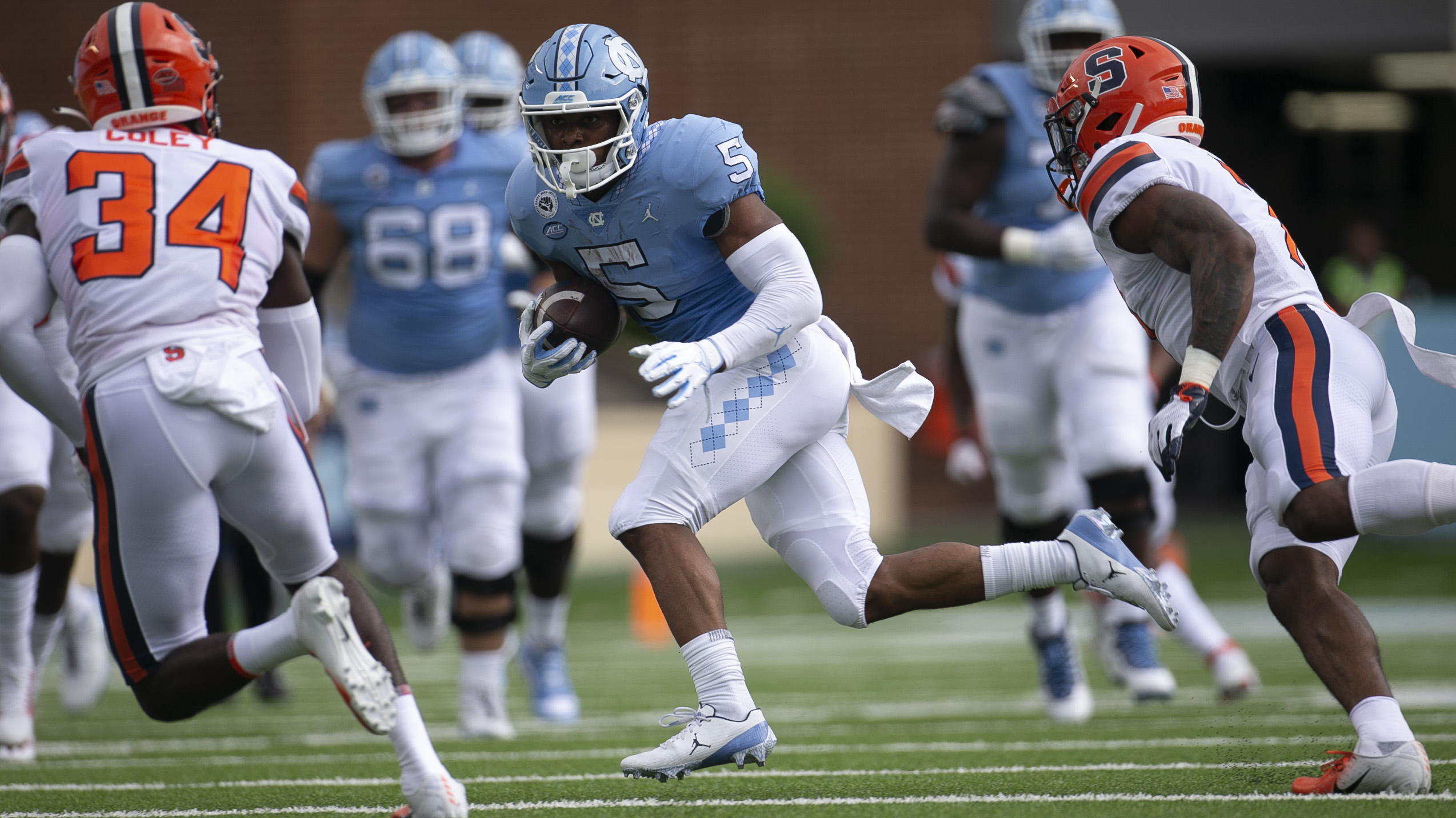 It wasn't always pretty, but the 18th-ranked UNC football team finally got its offense rolling against Syracuse in the second half on Saturday at Kenan Stadium–while also putting on a defensive clinic en route to a 31-6 victory over the Orange in the season opener.
Quarterback Sam Howell began his sophomore campaign with 295 yards through the air, including an early touchdown pass to tight end Garrett Walston on the very first drive of the game.
Although that score ultimately proved to be the difference, the vaunted Tar Heel offense showed its rust over the course of the next two quarters.
Problems included Howell throwing an interception, kicker Grayson Atkins missing a 50-yard field goal attempt, and Syracuse recovering a fumble when Preseason All-ACC wide receiver Dazz Newsome muffed a punt.
With all the expectations surrounding the Tar Heels heading into the year, head coach Mack Brown said the offense may have bought into it a little too much early in the game. 
"We probably scored too easily to start with," Brown said. "We go for a 4th-and-7 and get it very quickly. And then the guys probably said, 'OK, this is gonna be easy.' 
"Syracuse continued to play hard and started making more plays and offense and gaining confidence," he added. "I think the biggest thing is at halftime we settled down and said, 'Let's just go be us.'" 
After coming out of the locker room, Howell threw another interception on UNC's first drive but things started coming together slowly after that.
A successful field goal by Atkins gave the Tar Heels a 10-6 lead entering the fourth quarter, where junior running back Javonte Williams capped off three drives with rushing touchdowns.
Williams powered his way to 57 yards in the game, while his partner in the backfield—senior Michael Carter—showcased his speed and versatility. A 45-yard run from Carter helped set up the first of Williams' scoring plays, with the Florida native following that up with a pair of big receptions on the next drive to set up another Williams touchdown.
For the game, Carter tallied a team-high 78 rushing yards on just seven carries and added six catches for 60 more yards.  
"Offense is normally behind defense when you start," Brown said. "They have a new defensive coordinator and we didn't know a whole lot about their personnel because they had a lot of new guys. So, there were a lot of different things thrown at our offense in the first half. I'm just really, really proud that they settled down and played so well in the second." 
The spectacular play of the UNC defense also played a major role in the victory, as it held Syracuse to just a field goal in each half while the offense worked out its early issues.
Senior linebacker Chazz Surratt led the way with a team-high nine tackles and two sacks, while the team combined for a whopping seven sacks over the course of the game. Syracuse also completed just 16 of its 38 passes and only tallied 202 yards of total offense.
A dynamic offense is what was expected from the Tar Heels, but if Saturday was any indication the defense has a shot to provide the same kind of spark.
With that in mind, there were plenty of positives for Brown to take from this win despite the slow start offensively. 
"At halftime, we actually told the kids, 'We don't care if we win 7-3,'" Brown said. "We just want to win. Let's not go from two wins to seven wins to not being excited about a lead at halftime. Come on men, let's wake up and be realistic about this stuff. Opening games are really hard to win." 
Up Next:
The Tar Heels remain in Chapel Hill for their non-conference game next Saturday against Charlotte, the first ever meeting between the two teams. That game will be televised on the Regional Sports Network with a 3:30 p.m. kickoff time.
Game Notes:
Sam Howell's 295 passing yards were the most by a Tar Heel quarterback in a season opener since T.J. Yates had 412 against LSU back in 2010.
Brothers Tomon and Tomari Fox combined for three of UNC's seven sacks, with Tomon picking up one and Tomari notching a pair.
Junior Dyami Brown led UNC in receiving with six catches for 94 yards.
As a program, the Tar Heels have now won each of their last four games by margins of 20 points or more.
Cover photo via ACC Media
Chapelboro.com does not charge subscription fees. You can support local journalism and our mission to serve the community. Contribute today – every single dollar matters.