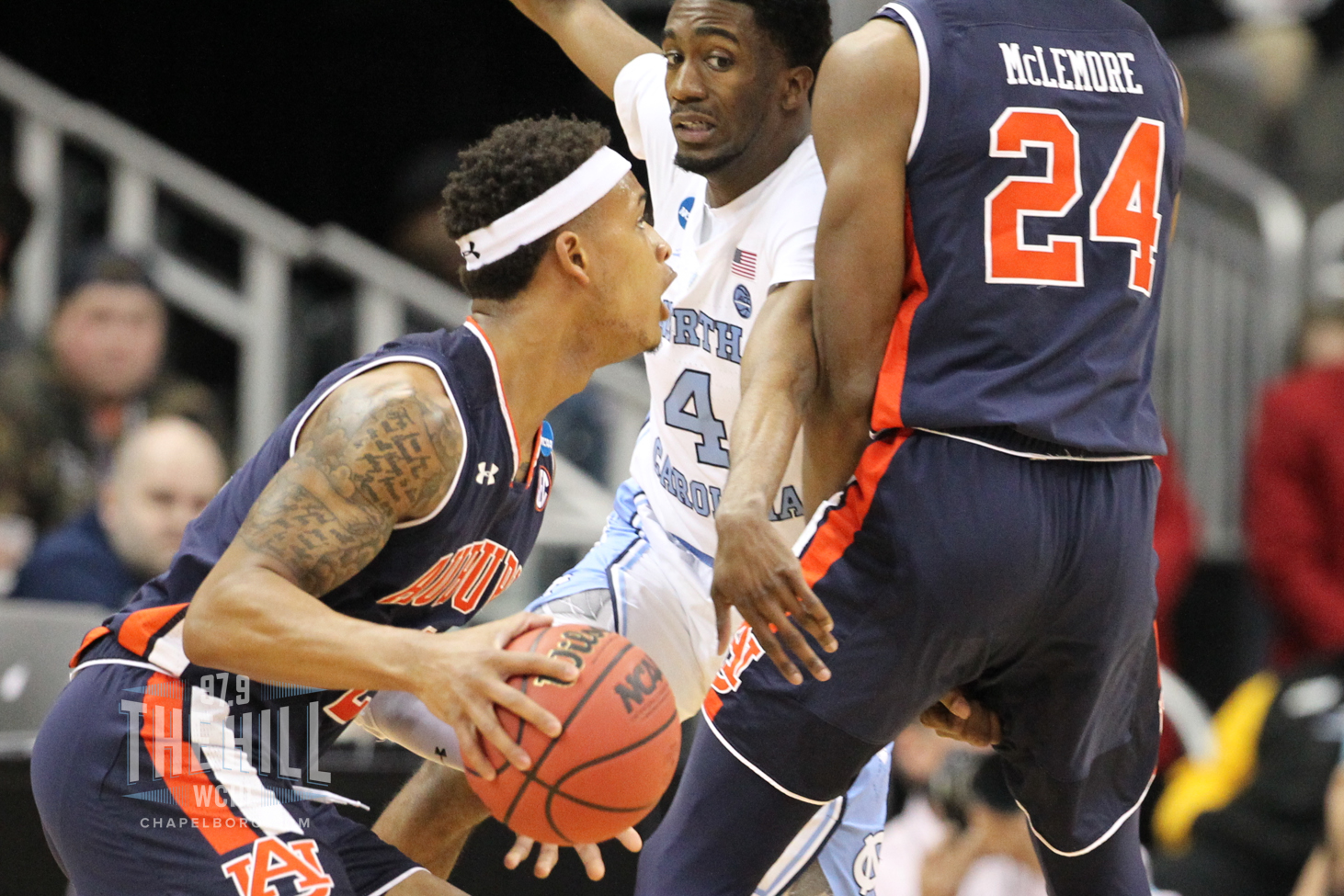 A stunning three-point barrage in the second half of Friday night's NCAA Sweet Sixteen game in Kansas City ended the season abruptly for top-seeded UNC, as the No. 5 seed Auburn Tigers rolled to a 97-80 victory and earned a place in the Elite Eight.
The Tigers (28-9) came into the game riding a 10-game winning streak that included the SEC Tournament title. They showed what got them there on Friday by beating the Tar Heels (29-6) at their own game—getting the ball out in transition and scoring at a relentless pace.
UNC led 39-35 just before halftime, but the Tigers responded by scoring the final six points of the half to lead by two at the break.
From there, Auburn stayed hot coming out of the locker room. The Tigers notched the first eight points of the second half and would go on to build their lead up to as many as 19 points using red-hot shooting from long distance.
In the second half alone, Auburn hit 12 of its 17 total three-pointers for the game—with that total representing the most by any Tar Heel opponent this season.
UNC did what it could to erase the deficit, but Auburn seemed to have the answer every time in the form of another back-breaking three-pointer.
As a result, the season came to a crashing halt for head coach Roy Williams and his talented Tar Heel team that had its sights firmly set on the program's seventh NCAA Tournament championship.
In addition, UNC also became the first No. 1 seed eliminated from this year's tournament.
"I think 17 is the most threes any of my teams have ever given up in 16 years [at UNC]," Williams told reporters afterwards. "It was a bad time to have that happen.
"We left them open a bit too much, and they made the shots," the coach continued. "And it sort of snowballed. Then we got [the deficit] back to five or six or something like that, then they made two or three [three-pointers] again."
For the game, the Tar Heels shot just 43 percent from the floor and converted on only seven of their 28 attempts from long range. Auburn, in comparison, converted on 54.5 percent of its own shots.
On the individual side of things, freshman point guard Coby White tied for the UNC scoring lead with 15 points–but missed all seven of his three-pointers and made only four of his 15 total shot attempts.
Seniors Cameron Johnson, Luke Maye and Kenny Williams also scored in double figures in what turned out to be their final games in Tar Heel uniforms. Johnson ended the night with 15 himself, while Maye had 13 and Williams added 10.
With Auburn playing as lights out as it did, though, those numbers didn't mean too much.
It was simply a night to forget for UNC, which has no choice but to put this one in the past and try to come back stronger next season.
As one would expect, Roy Williams was extremely emotional when discussing what this group of seniors has meant to him.
"They've won 121 games in their four years," Williams said. "And represented our university the way that it should be represented. And they were true pictures of student athletes that some of us are really lucky enough to coach.
"I didn't help them a heck of a lot today," he added. "I didn't get them as prepared as [Auburn head coach] Bruce [Pearl] got his team prepared.
"Bruce loves his team," Williams continued. "But he can't love his team any more than Roy Williams loves his team."
Game Notes:
Auburn's 97 points set a new school record for scoring in an NCAA Tournament game.
The Tigers were led by 20 points from forward Chuma Ekeke, who left the game late in the second half with what appeared to be a serious injury.
Nassir Little was a game-time decision for the Tar Heels after battling flu-like symptoms earlier in the week, and ended the game with only four points and three rebounds after averaging 19.5 points per game in UNC's first two outings of the tournament.
Head coach Roy Williams also said that Cameron Johnson had a fever of over 100 degrees the night before the game.
Cover photo via Todd Melet