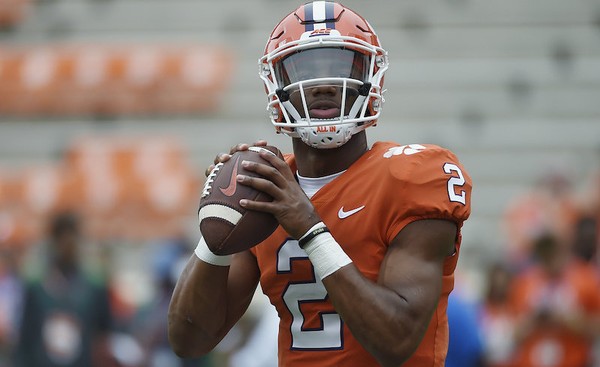 Desperately in search of a top-flight quarterback, the UNC football team will have a chance this weekend to impress one of the nation's best–as former Clemson signal-caller Kelly Bryant will visit the school this weekend with the Tar Heels hosting Virginia Tech.
Bryant–a 6-foot-4, 220-pound dual threat quarterback–is seeking to transfer from Clemson for his final year of eligibility after being passed on the depth chart by true freshman Trevor Lawrence.
The news was first reported by Inside Carolina.
As the Tigers' starter last season, Bryant threw for 2,802 yards and 13 touchdowns while leading the team to the College Football Playoff. In addition, he ran for 665 yards and 11 scores on the ground.
Although Bryant started each of Clemson's first four games in 2018, it was clear that Lawrence–a five-star recruit–was being groomed to take over the job. Head coach Dabo Swinney was using the duo in a quarterback rotation similar to the one used by UNC head coach Larry Fedora when the Tar Heels had both Marquise Williams and Mitch Trubisky on the roster.
Bryant will finish the 2018 season with 456 passing yards and 144 rushing yards. He also threw for two touchdowns and ran for two more.
Thanks to a new NCAA redshirt rule, he will hold on to his eligibility for next season since he did not appear in more than four games.
Photo via Associated Press