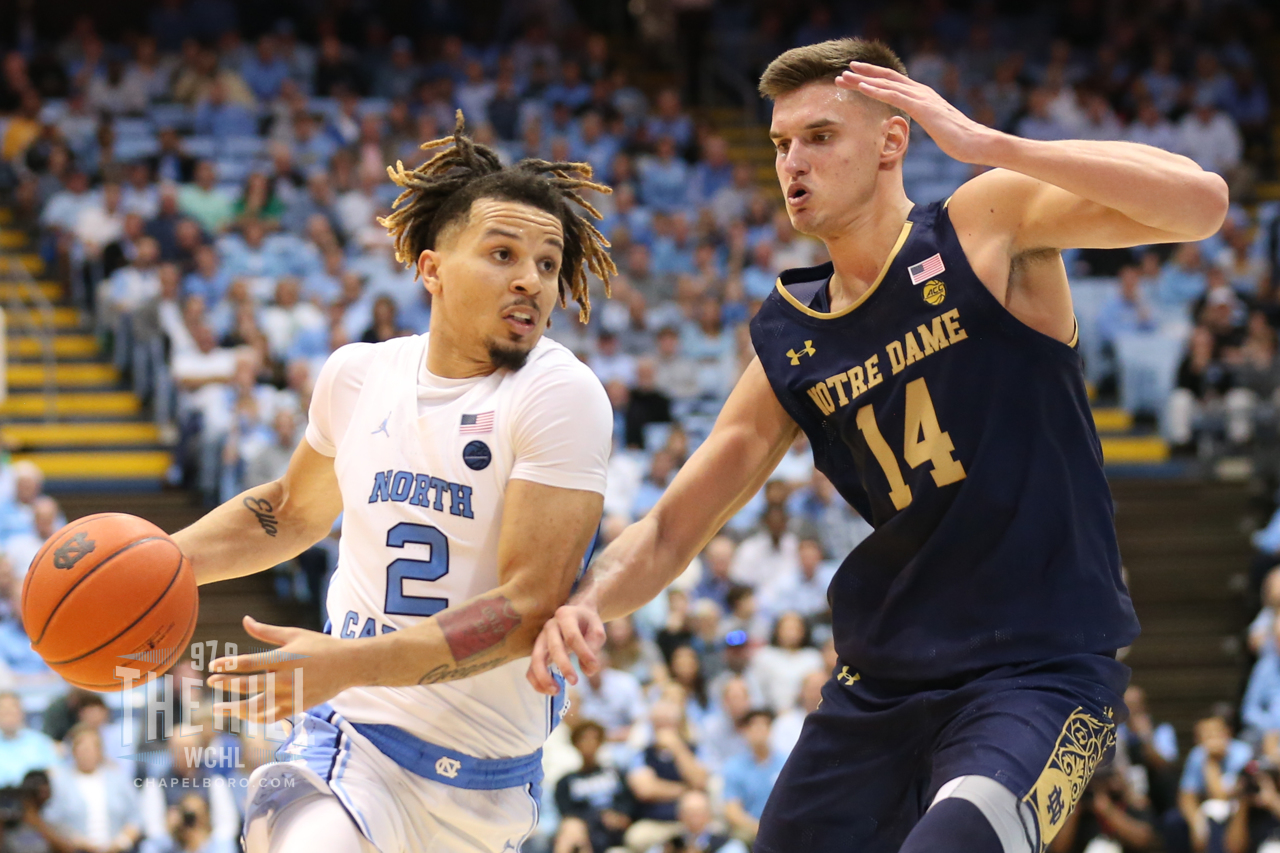 If there were any doubts about what kind of player freshman point guard Cole Anthony would be this year for UNC, they were all put to bed after Wednesday night's season opener at the Dean Dome—as Anthony carried the ninth-ranked Tar Heels to a 76-65 victory over the Notre Dame Fighting Irish.
With the move to a 20-game ACC schedule this season, Anthony was thrust immediately into the bright lights of conference play against an experienced Notre Dame team starting four seniors.
So far it appears no stage is too big for the rookie, who was the Tar Heels' main catalyst all night long—doing everything he could to will UNC to the win with an ACC freshman record 34 points to go along with 11 rebounds and five assists.
An ice-cold start to the game for every Tar Heel not named Cole Anthony helped Notre Dame take a 31-30 halftime lead, but a cold-blooded response from Anthony midway through the second half put UNC in control for good.
Five three-pointers and a pair of mid-range jumpers by Anthony over the final 13 minutes were simply too much for Notre Dame to keep up with down the stretch.
"I came out [the second] half thinking, like, 'Yo, team, let's get this going,'" Anthony said. "If that means I had to get a rebound, I was gonna go try to get that rebound. If I had to make that extra pass, I wasn't coming out thinking I was gonna shoot it every time.
"I'd say when I hit, I don't know if I hit two or three threes in a row, but at that point," he added. "I'm like 'Yeah, I'm feeling pretty damn good.' Excuse my language."
The threat of Anthony's scoring began to create open shots for the other Tar Heels like Garrison Brooks and Andrew Platek—who were next on the team with 10 and eight points, respectively.
After the game Brooks admitted there were times during the game where he got caught spectating, and wasted no time giving credit where it was due.
"Man, Cole Anthony is awesome," the junior forward told reporters. "As good as advertised. He really got us going. He's one of the best players I've ever seen. I'm just proud of him, the way he played tonight.
For a team seeking a brand-new identity in the wake of losing its top five scorers from last season, Wednesday night gave Tar Heel fans a sneak peek of what's to come. UNC will surely get more contributions from its supporting cast as the season rolls on, but any hopes of winning at an elite level will lie on Anthony's shoulders.
A lack of depth at the guard position also has many people wondering whether the Tar Heels' best plan of action would be to play Anthony for all 40 minutes of every game.
Head coach Roy Williams said he'd like to get his star freshman a break every now and then, while also acknowledging that Anthony has been sensational during the team's offseason conditioning tests.
Either way it goes, it's only taken one game for Anthony to start having Williams throw his name around with one of the greatest players in program history.
"Basically, guys, in the second half it was Cole Anthony," Williams said. "I used to sit in here and say sometimes that Tyler Hansbrough carried us. Well Cole carried us tonight."
Up Next:
A trip to Wilmington awaits the Tar Heels on Friday, as they take on former assistant C.B. McGrath's UNCW Seahawks in their first road game of the season. Tip-off for that game is set for 7 p.m.
Game Notes: 
Cole Anthony's 34 points were the most ever by an ACC player in their first game. He also joined Hansbrough as the only UNC players to have at least 30 points and 10 rebounds in the same game as freshmen.
Throughout his entire season last year as the Tar Heels' top point guard, current Chicago Bulls rookie Coby White's career-high was 34 points. It took Anthony one game to match that.
Anthony made 12 of his 24 field goal attempts, including six of his 11 three-pointers.
The Tar Heels out-rebounded Notre Dame in classic Carolina fashion, grabbing 51 of their own while allowing the Fighting Irish to grab hold of just 31.
Cover photo via Todd Melet