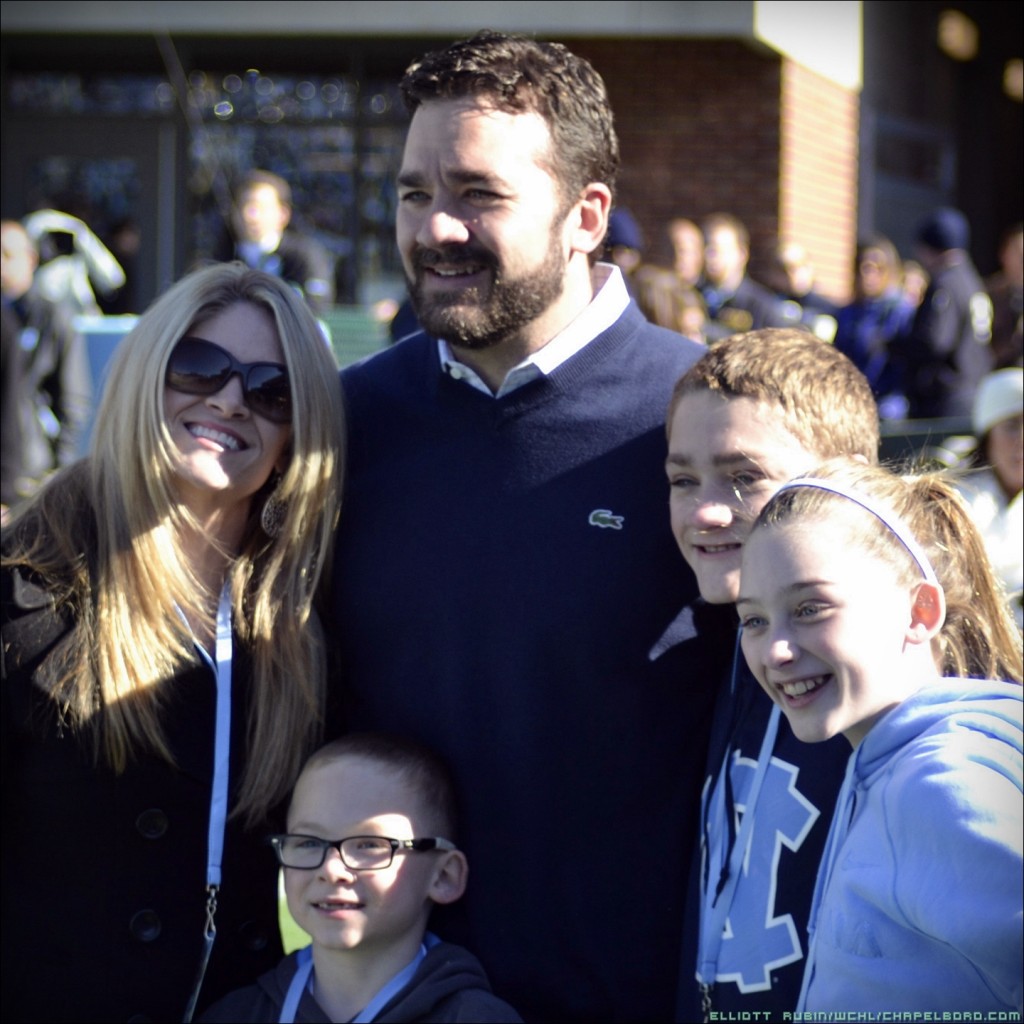 Jeff and Karen Saturday are never far from UNC football, and now their names will forever be associated with the men in the trenches.
The Tar Heels announced Thursday that after a gift from the Saturday family, the offensive line room in the team facility will be officially renamed the Saturday Family O-Line Room.
𝙀𝙭𝙩𝙧𝙖 𝙋𝙤𝙞𝙣𝙩𝙨: 𝙏𝙝𝙚 𝙎𝙖𝙩𝙪𝙧𝙙𝙖𝙮 𝙇𝙚𝙜𝙖𝙘𝙮

Jeff and Karen Saturday have made a significant gift to rename our Offensive Line Room, now officially the 𝗦𝗮𝘁𝘂𝗿𝗱𝗮𝘆 𝗙𝗮𝗺𝗶𝗹𝘆 𝗢-𝗟𝗶𝗻𝗲 𝗥𝗼𝗼𝗺

🔗 https://t.co/mpDdilkv9O#CarolinaFootball 🏈 #BeTheOne pic.twitter.com/r8vAEyAPZc

— Carolina Football (@TarHeelFootball) August 5, 2021
Saturday played at center in Chapel Hill from 1994 through 1997 and was named a first-team All-ACC performer twice, as well as Academic All-ACC in 1997. He was a four-year letterman under head coach Mack Brown, during the Hall-of-Famer's first stint coaching at UNC. Despite this, Saturday was not selected in the 1998 NFL Draft.
After being signed and quickly cut by the Baltimore Ravens, Saturday eventually signed with the Indianapolis Colts in 1999 after a former college teammate, Nate Hobgood-Chittick, recommended him to the team's general manager.
Saturday excelled with the Colts and star quarterback Peyton Manning. He made six Pro Bowls in his illustrious NFL career, five of which came with Indianapolis. He was also named a first-team All-Pro in 2007.
In addition to being a contributor for NFL Live on ESPN, Saturday frequently appears as a guest on pre-kickoff radio coverage of Carolina football. UNC play-by-play announcer Jones Angell publicly expressed his excitement about the gift.
Love this! Jeff is absolutely first-class and bleeds Carolina Blue. https://t.co/50RBQgiPef

— Jones Angell (@JonesAngell) August 6, 2021
You can listen to Saturday and Angell an hour before kickoff for each game of the UNC football program's 2021 season on 97.9 FM or 1360 AM.
---
Chapelboro.com does not charge subscription fees. You can support local journalism and our mission to serve the community. Contribute today – every single dollar matters.