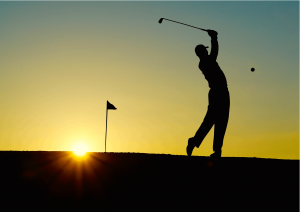 We're about to see why there is both magic and fury in golf.
The most romantic, and perhaps sexist, chroniclers of history regard golf courses as beautiful creatures that players get to spend four or five hours with. Golf on the greatest courses, or any track, can be both exhilarating and frustrating, which is why Mark Twain coined it "a good walk spoiled."
Most of the time for PGA players, the course is not as important as the competition in the field. But in the majors, like the U.S. Open that began today at Shinnecock Hills in Southampton, New York, the course is just as big as Tiger, Phil, Dustin, Justin or Jordan. The only course to host the U.S. Open in each of the last three centuries, Shinnecock Hills brings out the fear and respect of the world's best golfers.
For example, as the first round goes off all day, the possibility of gale winds off the Long Island coast is on everybody's mind. The USGA has slowed down the greens by letting them grow up a bit and the course can survive heavy rains if they come. But officials also say that wind alone could cause a delay if Shinnecock becomes, in a word, unplayable.
That's what U.S. Open courses are supposed to be, right? Impossible tests of golf that could yield the greatest result of a golfer's career. Would we know the name Corey Pavin if he hadn't hit a 2 wood to win the 1995 Open at Shinnecock? Or isn't it easier to recall Winged Foot hundreds of miles to the west but still in New York, because Phil Mickelson blew his best chance at a career grand slam by hitting a horrid drive on the 72nd hole?
Unlike tennis courts at the most famous venues, golf course dimensions can be stretched and narrowed each time they are played. The length, terrain and traps galore of Shinnecock Hills seem tailored more to the younger, longer hitters, but can also command the savvy of veterans.
The crowd favorites and biggest story lines to start are whether Mickelson can complete that career slam or whether Woods can ever win another major. If either is successful against the dozens of magnificent players who dominate the game today, Shinnecock Hills must also be beaten.
Podcast: Play in new window | Download