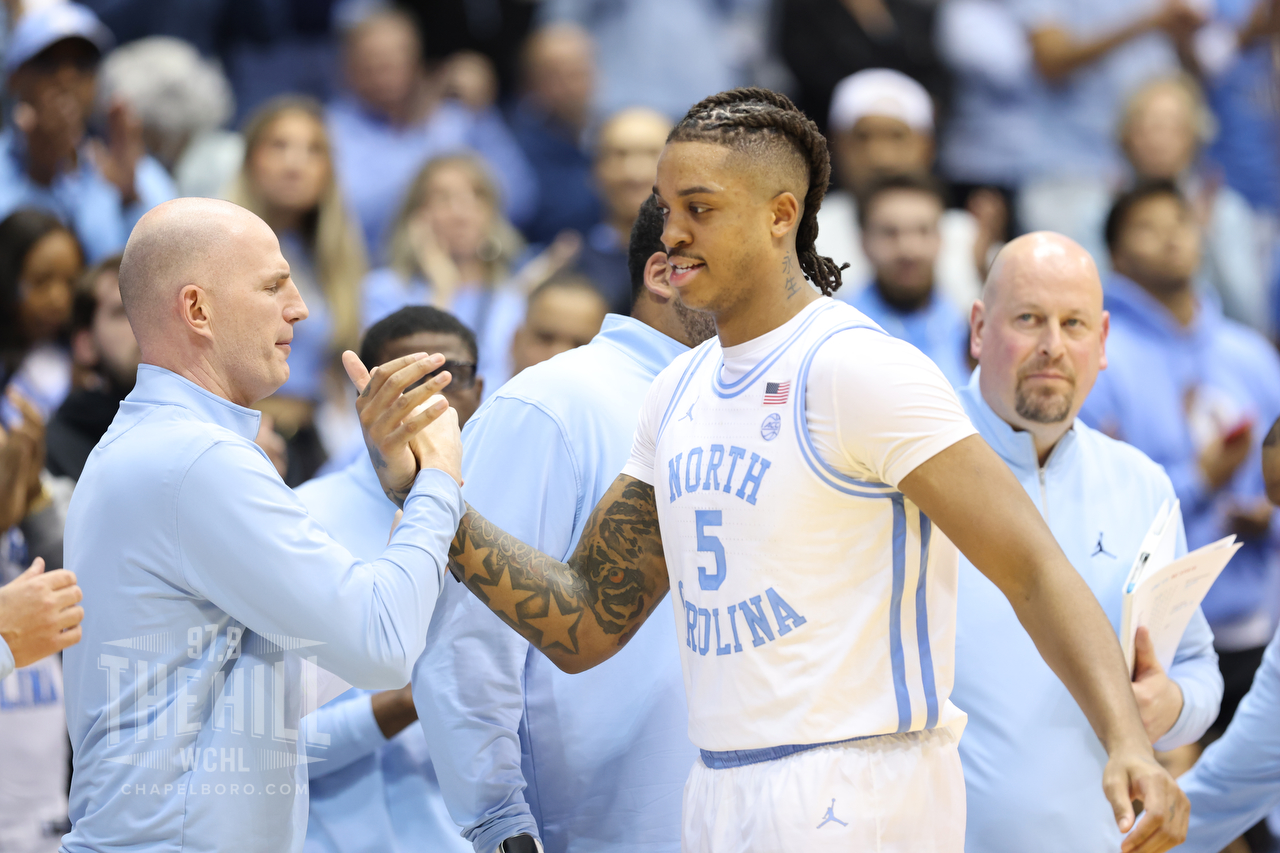 In front of a fired-up Dean Smith Center crowd, UNC senior center Armando Bacot set a pair of Carolina records as the Tar Heels beat rival NC State, 80-69. Bacot scored 23 points and grabbed 18 rebounds to not only record his school-record 61st double-double, but also break Tyler Hansbrough's career rebounding record. Bacot's 1,221 boards are now the most in school history.
HEELS WIN.#CarolinaFamily | @WellsFargo pic.twitter.com/4NhxICON0A

— Carolina Basketball (@UNC_Basketball) January 22, 2023
Hansbrough was there to celebrate with Bacot in a postgame ceremony.
What a moment for Armando Bacot 👏 @UNC_Basketball pic.twitter.com/jO3yfUJ47l

— ACC Network (@accnetwork) January 22, 2023
"A weight was off my shoulder," Bacot said of breaking the records. "Now it's really just sinking in. Being able to greet Tyler Hansbrough after that, it meant everything to me."
Despite Bacot's record-setting night, it was sophomore guard R.J. Davis who led the team in scoring with 26 points, just four off tying his career high. Perhaps the most impressive facet of Davis' game was his proficiency at the free throw line: he made all 14 of his foul shots and contributed to a 36-39 day at the stripe for the Tar Heels. That 92.3 percentage is the best in program history on at least 30 attempts.
But it was a foul against the Tar Heels which temporarily turned the evening into a sobering one. Midway through the second half, NC State sophomore guard Terquavion Smith, the ACC's leading scorer, was fouled on a drive by Leaky Black and landed hard beyond the baseline. He stayed down for several minutes before being stretchered off with an aircast over his right arm and his legs immobilized.
The NC State program officially diagnosed Smith with an elbow and neck injury. Black was assessed a flagrant 2 foul and ejected from the game. It's the first ejection of his five-year UNC career.
"My hope and my prayer is that he's not hurt and injured," UNC head coach Hubert Davis said after the game. "He's a fantastic player… just didn't like seeing that."
Smith had been integral in an early Wolfpack surge which saw them lead by as many as eight points in the first half. NC State shook off an early Carolina push to rattle off a 15-2 run and take a 20-12 lead. UNC responded in kind, going on a 14-2 run of its own which included 12 consecutive points, including an R.J. Davis shot from near midcourt which banked in to beat the shot clock buzzer. Sixteen of his 26 points came in the first half.
But the story for every Carolina fan was always going to be Bacot's pursuit of history. He came close to recording a double-double in the first half, scoring seven points and grabbing nine rebounds before he had to exit with two fouls. He picked up his third early in the second half, but stayed in to achieve history. Hubert Davis subbed him out late in the game to allow the Smith Center crowd to give him a standing ovation.
"Every day at practice, shootaround, game, you know he's gonna give his best on both ends of the floor," Davis said, "for himself, for the team, for this program. For him to pass Tyler Hansbrough and Billy Cunningham [in double-doubles], that's just unbelievable. He's one of the best players in Carolina history."
"He's such a good rebounder," said graduate forward Pete Nance, who finished with five points and eight rebounds. "When you hear the term 'nose for the ball,' he's the epitome of that. When that ball's coming off the rim, he will be there."
It should come as no surprise, then, that Bacot was able to show off his newest tattoo after the game: NBA Hall of Famer Dennis Rodman, who grabbed nearly 12,000 rebounds in his legendary career, now graces Bacot's calf. The Tar Heel star isn't quite there yet, but his 11.9 rebounds per game are still comfortably most in the ACC.
"At this point, it's nothing new to us," said R.J. Davis. "I'm already expecting him to get a double-double within the first five minutes of the game."
Still, Bacot has not yet satisfied any of Carolina's criteria for having a jersey honored in the rafters of the Smith Center. He just missed on winning ACC Player of the Year last season, which would have made him eligible. Despite that, he now stands in a class of his own when it comes to hitting the glass at a program that prides itself on doing just that. With that in mind, does Armando Bacot consider himself one of the best big men to ever play in Chapel Hill?
"I can't put myself too high," Bacot said. "Because there's still one more thing I've gotta do."
Featured image via Todd Melet. For a full photo gallery of the game, click here.
---
Chapelboro.com does not charge subscription fees, and you can directly support our efforts in local journalism here. Want more of what you see on Chapelboro? Let us bring free local news and community information to you by signing up for our biweekly newsletter.