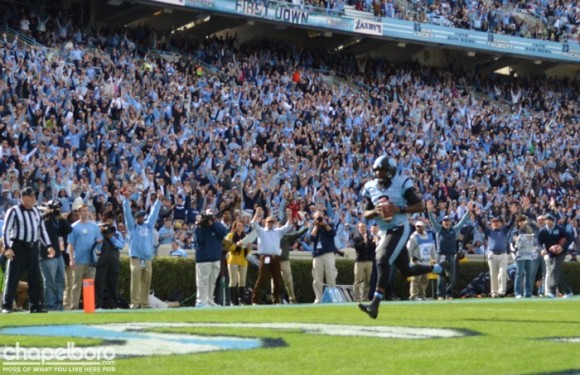 On a gorgeous Homecoming weekend, the Heels continued their improved play as of late with a landslide victory over the Cavaliers of Virginia. Succinctly slamming the door shut on what for years was considered the "Virginia Curse," Carolina has now played the role of the victor in the past four renditions of the "South's oldest rivalry," and has outscored its neighbors to the north by a tally of 154 to 54 during this period.
Chapel Hill played host to some familiar faces, as alumni young and old returned to town for the Homecoming game that saw a pretty hopelessly overmatched Hoos team continue its 7-game downward spiral. Being yet another in the Heels' endless streak of noon and 12:30 games, however, Saturday was no exception to the trend of poor Kenan attendance.
As we know all too well, Tar Heel fans are a finicky bunch. If the team isn't winning, they don't show up. If the team is winning, it's often by too large of a margin to hold their interest. Perhaps there's some magical balance that we've yet to find: some Goldilocks level of success that suits fans "just right." Short of finding this golden equilibrium, we'll surely continue to see excess silver in the stands.
It was honestly quite disappointing to see the attrition rates in the Tar Pit relatively early in the third quarter. It's an epidemic, really: the same kind of mass evacuation was evident during the second half of the Heels' first official date in the Dean Dome Friday night.
In front of a full house or not, Saturday was far and away the best all-around performance that Fedora's crew has put together all season. Carolina dominated from the opening kick with solid efforts in all three phases. The offense finally seemed to click for a full four quarters and didn't exhibit any of its frequent red zone struggles. The defense held the Hoos to just two scores (one of which came in garbage time) and even managed to get on the board themselves via a 62-yard Dominique Green pick-six. And of course, special teams provided further cushion to the Tar Heel lead as Ryan Switzer finally took one to the house without having to suffer the injustice of yet another yellow marker behind the play.
A multi-dimensioned Tar Heel attack was on display, led by a host of young names like Logan, Switzer, Howard, and Francis. Forced to take over for an injured Bryn Renner, Marquise Williams' move behind center is representative of a larger changing of the guard, as the Carolina offensive machine finds itself in the hands of some young guns.
While those in the Tar Pit hold a tremendous amount of respect for Renner's contributions to the program, they're also very openly excited about Marquise's ascension to the starting role. With a student body old enough only to have experienced the likes of Yates and Renner at the helm, having a dual-threat QB is an exciting and novel concept. Though there were times Saturday when Quise spent far too long in the pocket, his ability to extend a play was more than evident.
Where a broken play or blitz of the QB would have previously represented an almost certain sack, Williams' athleticism allows for a host of other options. Not only this, but his skillset is much better suited to the Fed Spread system than that of Bryn (who, by no fault of his own, was a great pocket passer trying to fit into an offensive scheme that didn't favor his ability in the way that a Pro Style scheme would).
At a crucial juncture in the season, the Heels have the most important factor in their favor: momentum. Whether they're there when it's time to Hark the Sound or not, students are excited to once again be part of a winning team and to see the potential that a lot of Fedora's younger weapons have put on display. From the depths of despair to the discussion of which bowl venues would make the best winter break destinations, fans have jumped back on the wagon because they're again confident of one thing: the future is bright.