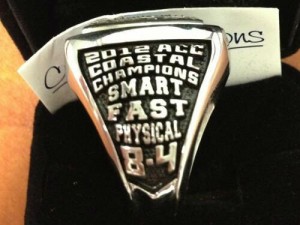 Larry Fedora's decision to give out rings for last season's unofficial division co-championship was roundly poo-pooed and ridiculed. Most of the poo-pooing from the usual suspects aka "regional rival fan bases"…. yawn.
There was ample skepticism from within TarHeelNation too. Like "participation trophies" for little leaguers…. come on, Larry!
I haven't actually asked Larry "why" but I think I've figured it out.
The Fedora Era got off to a fast start with many exciting Kenan Saturdays and several "games for the ages". He needed an impressive Year One as a foundation for what he wants to build "amid Kenan's lofty pines". It would not have been possible but for the cooperation of a special group of young men. Lets call them "Leftover Butch Boys"….. Cooper, Bernard, Barth, Williams, Reddick, Renner et al….. "Butch Boys" who chose to stay at UNC and put their loyalty to Carolina above all the other stuff.
"A ring" was a tangible show of his appreciation. I bet Larry also personally told each one "if I can ever help you in any way, you call me. I owe you."
If those 10-12 young men had chosen to transfer, give up football or just "tank the season"….. optimism that Larry Fedora can win A LOT at Carolina would not be at the level it is today.
"Give us time" is a wasted plea from any coach…. or politician. Larry Fedora was able to whet our appetities for the Fedora Era because of those young men who agreed to stay…. and to give him, and Carolina, their best effort.
I've been a part of a coaching regime change. They traditionally don't go very well. Old loyalties and new ways of doing things tend to conflict. Upper classmen feel like "step-children" that the new staff don't really want but have to accept…. if the new regime is not successful in "running them off" via various and sundry means. A 2-3 year period of mediocrity is usually the norm.
The 2010 UNC Football roster, as of June 2010, was arguably, the single most impressive on-field group of football athletes ever assembled at Carolina. "Off-field", of course, it became the most embarrassingly corrupt group ever assembled. That roster was decimated and imploded by its various and sundry malfeasances.
The "ringleaders" of Butch & Blake's Bad Boyz are notorious and reviled…. Austin, Little et al. Whatever else can be said about Butch Davis, John Blake and that staff…. they certainly could recognize and recruit athletes capable of playing at the highest level of college football. Their methods notwithstanding. Not all of their recruits were "bad boyz".
The players who were left after the exorcisms and the waiting for penalties in the interim and then "some guy from Southern Miss named Larry" were the backbone of last year's successful season. Cooper, Bernard, Barth, Reddick, Renner et al….. aka "the Reason For The Rings".
That said….. recruiting in 2010, 2011, and 2012 was akin to running in waist-deep water with the water filled with piranhas. It was really tough. No one knew what was what. Rival recruiters legitimately used that "unknown" effectively with the most-sought-after recruits. Players were signed and the usual "signing day clichés" were uttered…. but.
Some "good kids" were signed and those "good kids" are proudly wearing C-Blue this Fall. But, not the abundance of exceptionally talented players needed to be successful in a BCS Power Conference. Certainly this year's team has "some" as good as any in America – Eric Ebron being the most celebrated…. but football is a game of "quantity of quality" and of attrition.
Six or eight years ago, I proffered "to gauge the competitive strength of a college football program begin with the quality of it's 3rd string offensive line". Readers still remind me of how awesomely "right on" that statement was/is.
DEPTH OF TALENT separates the juggernauts from the wannabees. It is possible that a team with only 20 or so D-1 quality athletes COULD, avoiding injuries, make a successful run thru a 12-13 game schedule and grab a brass ring in December or January. Don't bet Junior's college fund or your 401-K on that happening however.
That harsh reality, alas, is what faces Tar Heel fans circa Fall 2013 and, to a lesser degree, 2014. UNC Football 2013 does not have 15, much less 30 much less a 3rd string O-line of BCS Power Conference-level athletes on its current roster.
Coach Fedora and his fine staff will "coach'em up" and hopefully the oft-persnickety football gods will smile on us for 6-7-8 Ws. We're gonna need their smiles and more.
"Good kids" we got. "Hosses and Studs" ?? Not so many. But "just wait". OK, at least, don't go full monte "lunatic fringe" on us.
Go Heels!
More BobLee at bobleesays.com