CHAPEL HILL – Members of the Chapel Hill Carrboro NAACP joined others Monday for a rally in Raleigh—this coming after last week's protest where 17 were arrested, and more than two dozen were arrested again.
Bishop Larry Reid was one of the several Chapel Hill residents arrested. He's a Vice President of the Chapel Hill-Carrboro NAACP chapter
At 5:30 this evening, Reid is urging people of all races to take part in another "wave of civil disobedience."
***There are conflicting reports about the number of those arrested. WRAL reports 30 people were arrested while the AP says there were 27.
General Assembly Police Chief Jeff Weaver says all are likely to face misdemeanor charges similar to the 17 NAACP protesters arrested last Monday. Those arrested this week include members of the social justice group Raging Grannies, several university professors, and the son of state NAACP president Rev. William Barber.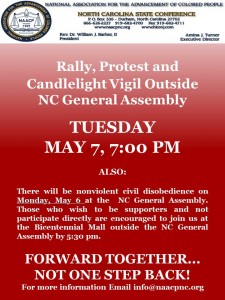 "It's not just a black issue. That's the way it was played off last Monday night. People made it out to be heavily laced in black folks and said that all it is. But that's not the issue. It's far from it," Reid said.
Along side NAACP NC Chapter president Rev. William Barber last week, Reid and other activists participated in a "pray in"— or demonstrations through prayer and song. The protest took place inside the state Legislative Building. Reid says the arrest was worth it to prove his point.
"What's being done in the house is not just being directed at African Americans—it's directed at the vote, it's being directed to de-power the people," Reid said.
Protestors will gather outside of the state legislature this evening. Reid says Raleigh law enforcement warned him and others not to protest inside the State Legislative Building again.
Some of the issues they are protesting include limitations to voter rights—like the Voter ID bill, which passed in the House in April. It requires voters to show photo identification at the polls. Members of the NAACP view the bill as a form of poll tax. Reid also believes it's not right that federal funding to expand Medicaid was rejected. He believes these issues will affect many North Carolinians.
Reid hopes that if more people protest, state leaders will acknowledge their presence.
"And the issues are that they refuse to give us an ear to hear the complaints of the people," Reid said. "While they were looking down upon on us from their solarium above, they were thinking, 'Oh there's only a handful of them. That's not enough to get our attention. Throw them out of here.'"
He said he did not receive a response following last week's protests.
The NAACP will hold a candlelight vigil outside of the  State Legislative Building Tuesday night at 7:00 p.m.