170,000 North Carolinians could lose their unemployment benefits by year's end
RALEIGH – For nine weeks, the North Carolina NAACP and other activists have gathered in Raleigh for Moral Mondays, to protest what they call the "regressive policies" of the NC General Assembly. More than 80 were arrested Monday, bringing the running total to almost 700. Many rallied for the roughly 70,000 North Carolinians who lost their long-term unemployment benefits this week due to a decision by NC lawmakers.
MaryBe McMillan, the Secretary and Treasurer of the NC AFL-CIO, partnered with the NAACP recently and has spoken at several Moral Mondays. She fought a long battle to try to convince state leaders to extend long-term unemployment benefits.
"Today is a really sad day. North Carolina officially became the cruelest state in the nation now that we've walked away from these benefits. We are the only state to do this, the only state to kick the long-term unemployed to the curb. I think what this legislature has done is indefensible," McMillan said.
When the recession hit in 2008, the state was forced to borrow from the federal government as unemployment claims increased.
North Carolina was one of many states facing similar debt, but the only state to choose this course of action.  Unemployment benefits are slated to expire across the country at the end of this year.
"They [the unemployed] are trying to wrap their heads around why in the world their legislature would do this to them. Why would we turn down money that wouldn't have cost our state a dime? Why would we let what will eventually be 170,000 families suffer? It just doesn't make any sense," McMillan said.
Hannah Pinckney McManus, Pastor of Evergreen United Methodist in Chatham County, was one of those arrested Monday night.
"I'm scared to death! I've never done anything like this in my life. But my faith will not let me stay silent. It's not enough just to speak-up. I have to do something," Pinckney McManus said.
Pinckney McManus said the decision to cut-off the employment benefits for so many North Carolinians pushed her to take a stand.
'The folks that come to our food pantry on Tuesday night, their suffering is immeasurable. It goes far beyond them just having enough food to eat.  I don't know what else we can do as a church to help them when they are losing what little bit of income they have," Pinckney said.
Pinckney McManus's daughter, Elizabeth, attended the protest to support her mother. The undergraduate said she is worried for when the time comes for her to enter the work force.
"I find that to be traumatizing for the future of our state and for people my age coming into the job market, knowing that there's no security blanket offered by our government," Elizabeth McManus said.
Her fiancé, Jonathan Dail, is a recent graduate of UNC and has attended two Moral Mondays.
'What hits home to me is the fact that public education and liberal arts education is being cut and that impacts a lot of people," Dail said.
Pastor Richard Edens of the United Church of Chapel Hill was arrested Monday evening. His wife and fellow pastor Jill Edens was arrested on the seventh Moral Monday. Jill Edens was there to support her husband. Members of the United Church of Chapel Hill have been attending the protests since the beginning of the movement in late April.
"I think people of faith think about what is moral a lot, and apparently some of our representatives are a little short on that," said UCCH member Henry Lister.
Carrboro Alderman Michelle Johnson also attended the rally. She was arrested on  June 3rd's Mega Moral Monday. For the past two weeks, she joined a group to meditate on the lawn of Halifax Mall.  Johnson said it's a way to peacefully protest and continue to support the effort.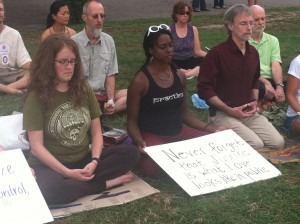 Johnson and others meditate in peaceful protest
The protests are garnering national attention. Writers from the Nation Magazine and Market Place Magazine were there Monday. The Huffington Post and Time Magazine have published pieces about the demonstrations as well. Last week, MSNBC and Fox News sent camera crews.
McMillian said though tough times are ahead, she has confidence in the Moral Monday Movement.
"The weather wasn't great, but still the crowd is out here, and they are fired up. They are ready to take action, whether it is within their communities or whether it is turning out the vote next November. We together have this power and we will continue to move our state forward," she said.