"Well, I think it does say something about the kind of kids that we have, no matter if we're 0-3 or 1-4. Our kids stuck with it and tried to do what we asked them to do every day in practice, they've worked hard, and I really believe that we're getting better as a team. I told them that this week; I think we're really close to really becoming a good basketball team."                         -Coach Williams
There you have it. The Tar Heels are back. It's that simple. You heard it straight from Roy. But wait – what? Does anybody remember the quotes that were being showered down on us a couple weeks ago?
Exactly. What a role reversal. Roy was scratching his head in devastation and trying to hold back tears following the home Miami loss that sent UNC to the basement of the ACC. For a while, the postgame press conferences felt more like heart-wrenching funerals than reflections on a game of basketball. It was downright uncomfortable.
The program was in shambles, right? The Tar Heels were surely gong to lose to Clemson, snap the 56-game winning streak, and then the Carolina basketball world would officially be over. The apocalyptic visions were settling in like hazy smog in L.A.
These Carolina players were washed up. They just didn't have what it takes. It was a toxic mixture of atrocious shooting, passive plays and lack of enthusiasm that wiped out these Tar Heels.
There were even murmurs of ol' Roy losing his touch, and that maybe it was time for the Hall of Famer to just move on. Let's just say the names Shaka Smart and Brad Stevens were being thrown around a bit more frequently at Franklin Street establishments.
And I was as guilty of it as the next person. Well, maybe I didn't subscribe to the apocalyptic worldview, but I was most assuredly wondering what another NIT berth would look like for this year's Tar Heels.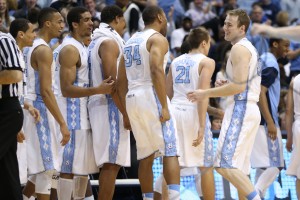 Oh ye folks of little faith. Here we are. Carolina is back at .500 in conference play by surviving winter gridlock in icy Atlanta and continuing its dominance of Raleigh's Wolfpack in a festive Smith Center. And thus this wild and wacky Tar Heel season rolls on.
And order has been restored temporarily. Tar Heel Nation can exhale for now.
But come on. We still hold our breath. Can this upward trend continue? Will the aggressive brand of basketball be here to stay? Will McAdoo continue to be a dominant force on the hardwood? Is McDonald's return to form substantial or a mere mirage? There are so many questions to answer.
Not the least of which is: can the Tar Heels compete with those Dukies down the road in Durham in a week's time? But heck, for now, the fact that these are all valid questions is somewhat miraculous. A few weeks ago, these questions wouldn't even have been posed. They would have been scoffed at or rendered completely obsolete.
And granted, Carolina isn't all the way to where it wants to be. Roy said they're "really close." How close is that? It's anyone's guess. But I know one thing: the script has been flipped. And it's an encouraging plot twist.