Michael Norwood was a walk-on senior playing his last home game in 1987, and boy was there some pressure on him! Starting with scholarship regulars Curtis Hunter, Dave Popson, Kenny Smith and Joe Wolf, Norwood knew he had better make the most of his three minutes of fame.
By the way, the Tar Heels were playing Duke and had won their first 13 ACC games, going for their second unbeaten conference season in four years.
Norwood found his moment and capitalized. Alone in the right corner with the Dukies concentrating on the other four cogs of the top-ranked team in the nation, Norwood flashed along the baseline, took a high-low pass from Wolf and scored on a reverse layup. The crowd went wild as Carolina went up 2-0.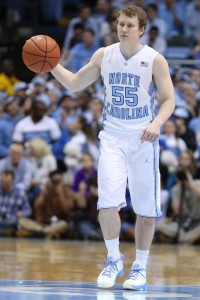 Wade Moody was five years from being born when Norwood made his move, but he can surely identify with it. With fellow walk-ons James Manor and Denzel Robinson (the coach's kid) joining Leslie McDonald and junior James Michael McAdoo, Moody got open on the right wing of an almost perfect set against the Notre Dame zone Monday night in the Smith center.
Shoulders square, in rhythm and letting the ball go with perfect spin, Moody swished a 3-pointer. Michael Norwood must have been smiling somewhere. Roy Williams played the walk-ons for three minutes, and they left the Heels an 8-4 lead when they came out to a raucous ovation from a lower arena filled with invited guests from the upper deck after the weather killed a capacity crowd.
Robinson got the assist on a McAdoo turnaround and Manor had both an assist AND a blocked shot. They all helped scholarship senior Leslie McDonald, who went on to have his only three assists in the first half of an otherwise disappointing game for No. 2 on the Senior Night he awaited for five years.
Based on how the starters started, Williams should have started them in the second half, too. Despite Ol' Roy's claim that his team didn't have a sense of urgency (his favorite phrase this season), the Tar Heels played the first half with amazing grace. They worked the ball beautifully and patiently against the Irish zone, getting just about any shot they wanted and making exactly half of them. Their 16 baskets came off 11 assists, a dream stat for coaches.
Despite shooting 50 percent, Carolina missed all kinds of bunnies in close when relapsing into the softness of the early season. Two of the more aggressive moves came from sophomore Joel James, who hasn't played much since the emergence of Kennedy Meeks. But the 280 pounds of the nearly 600 he and Meeks pack muscled in two hoops from the paint during his four minutes on the floor.
On defense, they were active, slapping balls away for five of the team's seven total steals on the night, holding Notre Dame's shooting down and building a 15-point lead that was 14 at halftime. McAdoo, the constant, was on his way to another quiet night of 14 points and 9 rebounds.
On the video board during an early timeout, Marcus Paige and J.P. Tokoto were bantering about wanting to fly if they could. Paige has great hops for a skinny little guy, but Air-Pierre is already there. He made all four of his shots in the first half and added five rebounds, touching the floor occasionally. His teammates must think he can catch and dunk an alley-oop from anywhere, because twice they threw the ball up to absolutely no one. Hey, Spiderman, where were you?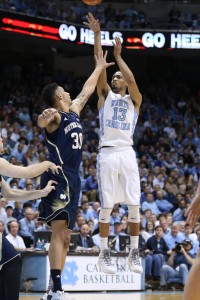 As Tokoto continues to come on rapidly, one can't help but wonder where he'd be if Reggie Bullock and P.J. Hairston were still on the team. Grounded is the answer, instead of soaring toward stardom with every passing game. J.P. could be the best leaper in Carolina history, including No. 23 (sorry, MJ loyalists).
The teams either switched uniforms or attitudes during halftime, because Notre Dame came out and did everything the Heels did in the first half, except better. After seven minutes and a 22-5 run, the Irish led by three and it looked like one of those games the home team was not going to get back. It was near dummy offense for the visitors. By the time Zach Auguste easily split the defense and laid it in for a 49-46 lead, the Irish had made 9 of their first 12 shots in the half.
Coming back against such a momentum shift is difficult, even at home, and especially if you miss 6 of 10 free throws while trying to do so. Two of the misses were on a bizarre rule that allows the opposing coach to pick the free shooter if the man fouled has to leave the game. After Nate Britt was shaken up on a hard foul by ND's Steve Vasturia, Irish Coach Mike Brey and official Bryan Kersey giggled when Brey selected Desmond Hubert to shoot for Britt. Hubert, a 29 percent free thrower, bricked both foul shots.
But the Heels were helped in a strange way by Brey, who got rid of his timeouts like they were volatile stocks, twice calling them when a TV break was coming on the next whistle. The former Duke assistant has much more the Guido-look these days, with hair slicked back and an open-collared dress shirt under a dark suit.
Brey called his last timeout after Tokoto's jumper reclaimed a five-point lead, and as it turned out Guido could have used another TO late in the game when his offense had to go solo against the clock to try to score. Brice Johnson, who had just made a huge tip-out on the offensive end to begin another possession, was ready to swat away Eric Atkins' shot with two seconds remaining, but somehow that little aviator Paige jumped up and beat him to the ball.
Essential in remembering your senior game is winning (ask Dexter Strickland), and the frenetic 63-61 final allows Moody to begin embellishing his big shot. For starters, he can say his three-ball was the difference in the game, and after a while it will become the last basket instead of the first. Norwood, for one, knows what you can do with some literary license.
"Every few years, I move up the bench one spot," Norwood said recently. "One day my grandkids will think of me as a star for the Heels and that layup as just one of hundreds of baskets I scored in my career."