Welcome to Woman Crush Wednesday!
This week, join 97.9 The Hill's Ali Evans for a conversation with Tina Lepage of Lepage Associates in Durham.
Along with 85 therapists from all over the country, Tina has led research on our mental health during the pandemic. In their findings, it's reported that two-thirds of therapists report significant increases in anxiety and stress in adults during the pandemic. A majority have seen increased sleep problems among their clients, as well.
Tina's research also found that "people seem really in tune with [their mental health] meaning as these studies are being run, people are so clear on how their lives have changed; the emotional reaction that they're living with day to day is really difficult for a lot of them." Essentially, those who may have ignored or neglected their mental health in the past are now more tuned into it.
For those who realize that their mental health as been affected – what's next? There are a couple of things you can do on your own. First, "put some structure and boundaries in place, so that you're not pulled into too many directions at once." Working from home may be a big adjustment for some of us, but structuring our daily schedule, including breaks and time for socialization, may prove helpful. The other thing that is so important for our mental health is getting outdoors and moving our bodies. As Tina explains, you don't need to over do it. "It doesn't have to be big exercise. It can be going for a walk, taking the dogs out, getting outdoors, socializing with friends, etc."
Of course, if it proves to be too much, don't be afraid to seek professional help.
Listen to Ali and Tina's full conversation below – an extended version from what aired on 97.9 The Hill – and check back next Wednesday for another introduction to some of the most amazing women in our community!
---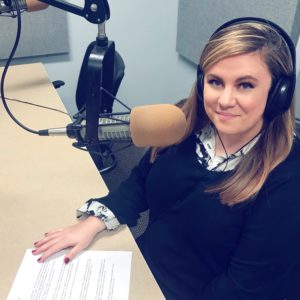 Join 97.9 The Hill's Ali Evans every Wednesday for another edition of "Woman Crush Wednesday," a three-minute weekly recurring segment made possible by Mosaic Comprehensive Care that highlights motivated women and their impact both in our community and beyond. If you'd like to nominate someone to be featured on WCW, email ali@wchl.com