The votes are in, and it's official: the winner of the September Short List for "Best Place for Tailgating Food" is WINGS Over Chapel Hill!
WINGS Over Chapel Hill is located on 313  E. Main Street in Carrboro.  They boast the fastest, freshest wings available in Chapel Hill and Carrboro.  You order it and they will make it.  Not the other way around.
You can get your wings delivered or you can pick them up at their convenient location making it great place to get the food you need for your football tailgate.
Not a fan of wings?  They have salads, wraps, and sandwiches on the menu!
Also on the Short List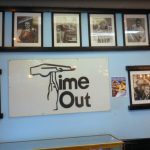 Time Out
Time Out is located on 201 E. Franklin Street.  It is a downtown Chapel Hill institution.  They are open 24 hours and 7 days a week.  Time Out is famous for their chicken cheddar biscuit and southern comfort food.
Time Out has been located in downtown on Franklin Street for over 30 years.
Saxapahaw General Store
The Saxapahaw General Store offers a wide range of products.  It is a grocery store, gas station, and restaurant all in one.  They work hard to provide as much local food as possible while also supporting other sustainable production methods.
The store is located in the heart of Saxapahaw on 1735 Saxapahaw-Bethlehem Church Road.