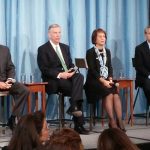 I never thought commissioning what turned out to be the Wainstein Report was a good idea because, while it was sure to provide some answers and details we did not have, it was also bound to rekindle more bad publicity for UNC and raise new questions.
That is exactly what happened, from national magazines to major daily newspaper to the 48-hour news cycle that seems like it lasted for 48 days. And, of course, it pumped new life into the Raleigh News & Observer to try to connect more dots to what the Wainstein Report connected.
Let's start with some facts that pertain to what now looks like a vendetta to nail the Carolina men's basketball program and strip down the 2005 NCAA championship banner from the rafters at the Dean Dome:
Not a single piece of evidence has been unearthed that would jeopardize that season and cause the NCAA to vacate a national championship (which, by the way, has never happened). Michigan's 1992 and '93 trips to the Final Four were vacated after a convicted felon testified under oath that he gave Chris Webber and three other members of the Fab Five $616,000 while they played for the Wolverines. Memphis' 2008 trip to the Final Four was vacated because it was proven that Derrick Rose did not take his own SAT in high school and thus was not an eligible student when he played for John Calipari's Tigers.
It is not an NCAA violation, or even close to one, if athletes take easy classes and do the work assigned to them. The News & Observer reports that among the basketball players Roy Williams inherited when he came to Carolina, 10 out of 15 were majoring in AFAM, and 35 of the so-called paper classes were taken by members of the 2004-2005 team (four of whom turned pro early and three of whom were seniors). Twenty-six of those 35 classes were in the spring semester, when most of those seven players believed they could get drafted and/or make an NBA team and were looking for courses that did not require them to be on campus all the time while getting ready for the NBA draft. AFAM was offering these courses, apparently sanctioned by the university, so it was the perfect solution. In fact, the players were smart to take them while they were visiting various NBA tryout camps and meeting with teams prior to the June draft.
The N&O posits that all these AFAM paper classes gave Carolina a "competitive advantage" – the buzz phrase of the NCAA when deciding if a violation occurred. If Carolina athletes taking easy classes gave their teams a competitive advantage, every school playing major college athletics – from Harvard to Stanford – has some kind of competitive advantage. By the way, who among you did not look for easy classes in college? If you raised your hand, you are lying, so put it down. Dan Kane's latest report in the N&O includes this paragraph: "In the 18 years of paper classes, men's basketball players accounted for 363 enrollments, an average of 20 enrollments per year." With about 15 players on the basketball team, that amounts to just over one player taking one of the paper classes per year – not per semester. That doesn't sound so bad.
The Wainstein Report shows a higher concentration of basketball players in those classes between 2000 and 2007. That's when AFAM was the department de rigueur at Carolina. In my day it was Education classes; before that it was Physical Education; after that it was Music; then came certain languages, like Portuguese. Again, simply taking easy courses and getting favorable grades in those courses are not violations as long as you did the work that was assigned. Sure, that makes those facets of a college education laughable at every school that allows those classes to go on as they did at UNC.
What Deborah Crowder did was fraudulent and should have been uncovered long before she retired in 2009. But her posing as a professor, assigning students to these classes and giving favorable grades on papers they turned in are not on the athletes or the 53 percent of the non-athletes taking those courses. That egg is on the university's face and worthy of a hefty fine imposed by the NCAA for lack of institutional control from the top down. What the N&O claims that experts call "the biggest academic fraud in history" is all on the administrators, deans, athletic directors and all their colleagues who either turned their heads or were asleep at the wheel as a "glorified secretary" perpetrated a scheme that (while representing a small subset of the athletic department and miniscule subset of the entire student body) is clearly the most embarrassing academic fraud in history.
Deborah Crowder's relationship with Carolina basketball goes back to her 30-year romantic partnership with former Tar Heel player Warren Martin, which led to her close friendship with the late Burgess McSwain, the long-time basketball tutor. Dean Smith's teams had a 95 percent graduation rate, a statistic Smith cited often and proudly. Smith would say, "We want our players to get a college education and have a good experience." The good experience was code for "we are going to help players graduate by putting them in classes that meet their academic abilities." But Smith, from a family of educators, had three hard-and-fast rules familiar to anyone with the slightest knowledge of UNC Basketball. One, you had go to class; two, you had to do the assigned work; and, three, Burgess could help you but she could not do the work for you.
Roy Williams is a celebrated disciple of Dean Smith and learned everything he knows about running a basketball program from his mentor. There is no reason to believe – and certainly no proof whatsoever – that Williams did anything differently from Smith. Did Williams know there were easy classes at UNC, and did he know that his players were taking some of them? Did he insist they went to class and did the work assigned to them? The answer to those questions is yes. If a violation of any sort occurred, it was on the university. Not the basketball program.
In a word or two, the system sucks. College athletics has gotten too big and is now all about the money. That athletes (as well as regular students) try to use that system to their advantage has been in vogue for decades. Don't penalize them. Put the blame where it belongs.