Can the experience of world-renowned musician and North Carolina native Joseph Robinson contribute to North Carolina's on-going dialogue about the purpose and value of higher education?
You be the judge.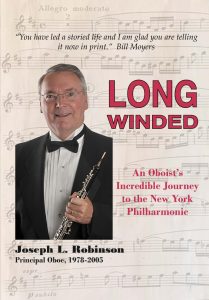 Robinson's recent memoir, "Long Winded: An Oboist's Incredible Journey to the New York Philharmonic," asks: How did a small town-boy who never attended conservatory persuade one of the world's greatest conductors, Zubin Mehta, to give him a chance at one of the world's most coveted positions in one of the world's greatest orchestras?
Robinson grew up in Lenoir, finished Davidson College, spent a year in Germany on a Fulbright fellowship, and did graduate study at the Woodrow Wilson School at Princeton. Without the focused, intensive conservatory training that is a usual prerequisite to a high-level performing career, his effort to build a life around his passion for the oboe was a struggle. He moved through a series of journeyman teaching and performing positions at the Atlanta Symphony, the North Carolina School of the Arts, and the University of Maryland before he broke through to the top.
Growing up in a small North Carolina town might not be the best background for an aspiring classical musician. But the mountain furniture community of Lenoir had the  best high school band in the state. When Robinson was drafted to fill an empty oboe slot, his course was set.
He loved the oboe so much that his Davidson classmates called him "Oboe Joe." But Davidson's musical program lacked the professional music training that Robinson craved. He almost transferred to Oberlin where there were more opportunities. Instead, he stayed at Davidson and majored in English, economics and the liberal arts, focusing on writing and expression.
His success at Davidson led to a Fulbright grant and the opportunity to meet Marcel Tabuteau, whom Robinson says was the greatest player and oboe pedagogue of the 20th century. When Tabuteau learned that Robinson was an English major and a good writer who could help write his book on oboe theory, he agreed to give him oboe instruction. Those five weeks with Tabuteau, Robinson says, "more than compensated for the conservatory training I did not receive."
Years later, Robinson still had not achieved his aspiration to land a first oboe chair in a major orchestra when Harold Gomberg, the acclaimed lead oboe of the New York Philharmonic, retired.
Audaciously, Robinson applied, and when finally granted an audition, he prepared endlessly. He was ready for the hour and 20 minutes of paces the audition committee demanded. Afterwards, he was confident that he had done very well.
But Philharmonic's personnel manager, James Chambers, after saying how well the audition went, reported that music director Mehta judged Robinson's tone "too strong" for the Philharmonic. He was not to be one of the two players who were finalists.
That should have been the end of it, but Robinson writes, "I knew that winning a once-in-a lifetime position like principal oboe of the New York Philharmonic was like winning the lottery."
At 3 a.m., he wrote Chambers explaining why his tone might have seemed too strong and, "You will not make a mistake by choosing Eric or Joe, but you might by excluding me if tone is really the issue."
When Chambers read the letter to Mehta, they agreed that it could not have been "more persuasive or fortuitous."
Chambers reported that Mehta said, "If you believe in yourself that much, he will hear you again."
Robinson's final audition was successful. "His winning lottery ticket," he writes, "had Davidson College written all over it."
How does Robinson's experience's contribute to our higher education debate? Simply put, while training for jobs and careers is critical, liberal arts are the keys to special lifetime opportunities like Robinson's "winning lottery ticket."
D.G. Martin hosts "North Carolina Bookwatch," which airs Sundays at 11 a.m. and Thursdays at 5 p.m. on UNC-TV. Preview the upcoming program on Preview the upcoming program on UNC-TV's North Carolina digital channel (Spectrum #1276) on Tuesdays at 8 p.m.
This Thursday's (May 31) guest is Charlie Lovett, author of "The Lost Book of the Grail." Next week's (Thursday, June 7) guest is Belle Boggs, author of "The Art of Waiting."
To view prior programs: http://video.unctv.org/program/nc-bookwatch/episodes/
Thursday 5pm May 31 Charlie Lovett, author of "The Lost Book of the Grail"
Thursday 5pm June 7 Belle Boggs, author of "The Art of Waiting"
Thursday 5pm June 14 Charles Frazier, author of "Cold Mountain"
Sunday 11 a.m. June 17 and Thursday 5pm June 21 Kathleen Burkinshaw author of "The Last Cherry Blossom"
Sunday 11 a.m. June 24 and Thursday 5pm June 28 Joseph Robinson, author of "Long Winded"