Here are five recent books, starting with a novel featuring a thinly disguised Jesse Helms, by North Carolina authors to put on your bedside reading table.
What is it really like to be the top aide to a powerful North Carolina senator, one who is much loved and much hated for his strong uncompromising views on heated issues, a senator who is running for reelection against a popular governor with a full war chest of campaign funds?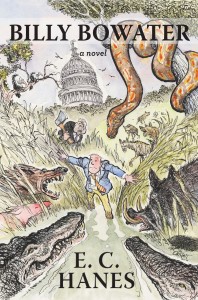 The Hunt-Helms race is obviously the model for the campaign chronicled in Billy Bowater, by Winston-Salem civic leader E.C. Hanes. The book's Jesse Helms figure is Billy's boss, Wiley Grace Hoots, a cherished and reviled incumbent senator.
Billy Bowater is fiction. But Hanes provides a realistic behind-the-scenes view of a hard-fought campaign. (Hanes will be the guest on UNC-TVs North Carolina Bookwatch at noon on Sunday, April 26th, and at 5 p.m. on Thursday, April 30th.)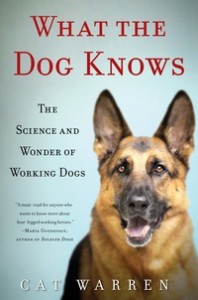 N.C. State Professor Cat Warren's dog, Solo, was the smartest animal she had ever seen, and she fell in love with him, even though he was "an unpredictable sociopath." How Solo became an effective cadaver dog is the story of Warren's book, What the Dog Knows: The Science and Wonder of Working Dogs.
The paperback edition of this remarkable book recently made The New York Times' list of non-fiction paperback bestsellers. This success should not be a surprise. Warren deftly accompanies her moving story of Solo's hard-earned achievement with information about crime fighting and the science of how dogs can learn to find the bodies of dead people. The result is a warm reading experience that informs as it entertains. (Bookwatch May 3rd, 7th)
The paperback edition of The End of Innocence, the debut novel of Chapel Hill based innovation consultant and speaker Allegra Jordan, will be released on May 1st. The book is set on the Harvard University campus and the battlefields of World War I. Its characters and their stories of love and friendship, smashed by the war, propel readers into the turmoil the Great War brought to the lives of unprepared people.
The book is timely in North Carolina for another reason. After the war, when a memorial was created for Harvard alumni who died in service to the allied cause, there was a hot debate about including alums who died fighting for Germany. Some North Carolinians are asking if we should maintain our monuments to the brave Confederate dead soldiers, even if we decide they were fighting for a cause that is indefensible today. (Bookwatch May 10th, 14th)
North Carolina's great and beloved historian, William Powell (who died April 11th), challenged the validity of the purported Mecklenburg Declaration of Independence. But the May 20th, 1775 date of the "Meck Dec" is fixed on our state flag and seal.
Charlotte lawyer Scott Syfert, author of The First American Declaration of Independence? The Disputed History of the Mecklenburg Declaration of May 20, 1775, lays out the facts, pro and con, and respectfully presents the opinions of both adherents and detractors so that his readers can form their own conclusions about the "Meck Dec." (Bookwatch May 17th, 21st)
If I told you the title of a recent North Carolina book was Foods That Make You Say Mmm-mmm, who would you guess is the author?  Do you need another hint? "This dish is to die for." Of course, the author is UNC-TV's star food guru, Bob Garner. He has written several books about our barbecue and many articles about our state's foods for Our State Magazine. His new book, his publisher explains, tells us about our state's food specialties like "fish stew, Ocracoke fig cake, banana pudding, collards and even Moravian chicken pie. The book is part cookbook, part essay collection, part dining guide." (Bookwatch May 24th, 28th)
Using Garner's favorite words to describe the best food treats, these five books are "to die for."