Last Thursday, at my friends' insistence, I finally saw the movie "Thor." It's a big-budget action spectacle, with lots of lights and noise and CGI, but the basic premise is Shakespearean: cast out of his family by the machinations of his scheming half-brother, left broken and penniless in an alien land, our brash, headstrong hero prince (read: he's a jerk) must regain his status as favored son and heir by proving his moral worth to his aged, tough-but-kindly father.
So you'll understand why I was feeling a bit of déjà vu the following evening, sitting in Deep Dish Theater for their production of Pedro Calderón de la Barca's "Life Is A Dream" – a classic Spanish play (often likened to Shakespeare) that follows pretty much exactly the same plot.
Eat your heart out, Joseph Campbell.
Written in 1635 during the Golden Age of Spanish literature, "Life Is A Dream" is the story of Segismundo, a prince who's been imprisoned literally from birth by his father the king. Seems he was born under a dark cloud—the stars have decreed he'll grow up to be a tyrant—and so for the good of the country, his father has kept him locked away, ignorant of his rightful status as heir to the throne. (Why the king doesn't just kill him outright is never entirely explained.) But as the king grows old—and his other would-be heirs begin sparring over succession—he relents: okay, he says, we'll take Segismundo out of his cell, reinstall him as prince, and see how he handles it. If he behaves, terrific. But if he acts like a tyrant—we'll simply drug him, lock him back up, and tell him the whole adventure was all a dream.
Meanwhile, subplots abound: a woman named Rosaura disguises herself as a man (seriously, have I mentioned Shakespeare?) to infiltrate the kingdom and take revenge on the prince Astolfo, who's stolen her honor; the king's closest aide discovers her secret and realizes he's duty-bound to her too; and meanwhile Astolfo schemes to marry his cousin, the princess Estrella, to lay claim to the throne, but he may or may not still be pining for Rosaura. It's not easy to keep up with it all: the plot is about as complex as "Hamlet," but while that narrative unfolds slowly over three-plus hours, Calderón crams all his plot points into an hour and 45 minutes. ("I have no idea what is going on," I overheard one audience member say during intermission.)
But as with Shakespeare, the plot isn't as important as the underlying philosophy. Are we free to chart the course of our own lives, or are we fated to turn out a certain way? How can we tell the difference between dream and reality? Is there a difference, really? Is life itself not just as temporary and fleeting and inscrutable as a dream? And what does that tell us about how to live our lives? The intrigues of kings and princes and spurned lovers abound—there's even a swordfight!—but the real heart of "Life Is A Dream" is in its philosophical musings, and those are handled primarily by two characters: Segismundo himself, and Rosaura's companion Clarin, a stereotypically wise fool reminiscent of the one in "King Lear."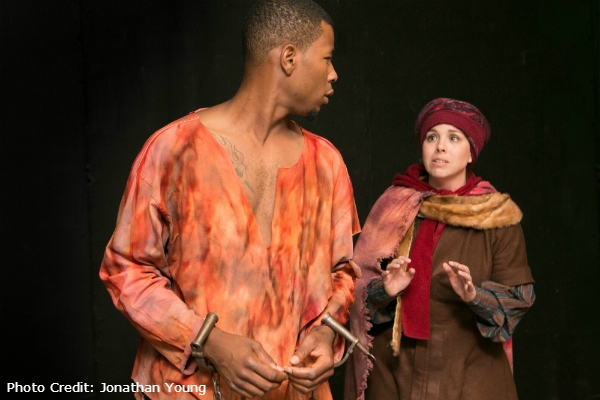 Alphonse Nicholson as Segismundo and Amber Wood as Rosaura, in "Life Is A Dream." Photo by Jonathan Young via DeepDishTheater.org.
So that's "Life Is A Dream."
But more importantly: how good is it?
By the time I took my seat, I was already excited about the potential. In the few minutes before the house opened, as all the playgoers milled around in the lobby, we could hear passionate shouts and the clinking of blades on the other side of the wall—just one more last-minute rehearsal, I guess, but it sounded so cool. And the set design (by Lex van Blommestein) grabs your eye as soon as you walk in: angles and windows and disheveled shelves and an ethereal backdrop that evokes mountains, oceans—attractive and forbidding and foreboding, all at once.
But the play itself takes a long time to find its footing. I still remember a production of Craig Lucas's "Reckless" I saw in college, in which the first act was so bad I almost left at intermission but the second act was some of the best theater I'd ever seen—and I got a similar vibe from "Life Is A Dream." It wasn't quite that extreme this time around—the first act had its good moments, the second act had its flaws—but the difference was definitely there. The first act feels like community theater, with all that that entails: nice costumes, fine production value, and performers going through the motions of acting without really finding the emotional connection to their characters. This is not really the actors' fault, incidentally: "Life Is A Dream" is a fine play, but some of the characters' motivations are simply baffling, especially early on. Why, for instance, does the king choose to imprison Segismundo for life instead of simply killing him? Having chosen to imprison him, why does he then choose to give him a classical education? Having done that, why does he then choose to free him, and why does he go about it in a way that's all but guaranteed to elicit the worst possible reaction? John Boni's performance as Basilio the king is actually quite good (notwithstanding his New York accent), but the character himself is impossible to believe. Same goes for Amber Wood as Rosaura, Anne-Caitlin Donohue as Estrella, and Peter Battis as Clotaldo the king's aide—all of whom deliver fine performances despite having characters who make a number of brow-furrowing life decisions.
But the second act ultimately redeems the first, and it's all thanks to the play's two philosophers, the wronged prince Segismundo and the wise fool Clarin—the two richest and most sympathetic characters, and (as luck or fate would have it) in Deep Dish's production the two best acted as well. As characters, Segismundo and Clarin actually don't figure too much in the first act—but they dominate the second, as Segismundo gets swept up in the royal intrigue and Clarin is left alone with his thoughts. And what thoughts! As Clarin, David Hudson is simultaneously hilarious and insightful and touching and tragic; unburdened by all the mounting plot points, he's free to deliver a memorable performance.
But it's Alphonse Nicholson's dazzling turn as Segismundo that truly makes "Life Is A Dream" worthwhile. Sticking with the Shakespeare theme, Segismundo's journey is a bit like Ophelia's in reverse: he starts the play half-mad, muttering wild things to himself while life goes on around him, and the plot turns on his gradually reconnecting with sanity and society. It's a tough part to play, and Nicholson nails it. Intense, fierce, passionate and sympathetic, he commands the stage from the moment the spotlight first falls on him—and it's his intensity, plus Hudson's, that finally win over the audience in the end, though it takes a while to get there. During intermission, I overheard an audience member in my row cracking jokes about the play; by the end, I heard the same person gasping (with real emotion) during Segismundo's final speech. I felt roughly the same way.
(It's also worth noting, as a side point, that Nicholson is the only black actor in the cast—including Boni, who plays his father. This passes without comment in the play itself—and it's obvious from the get-go that Nicholson was simply the best actor for the part—but casting a black actor in that role also adds an additional dimension to a story about a man who begins his life in bondage, is freed in a callous and capricious manner by a king who doesn't particularly care whether he succeeds, is cast back into bondage and is forced to regain his freedom all over again. But the play is seventeenth-century Spanish, not twentieth-century American—so the audience is left to ruminate on that for itself.)
In the end, if "Life Is A Dream" doesn't quite reach the heights of Deep Dish's last production, the quietly stunning "Arcadia," it's still worthwhile (stick around, it'll win you over) on the strength of Nicholson's performance as Segismundo—who never quite reaches a conclusion on whether life really is a dream, but resolves to make the best of it nonetheless. How that's to be defined is up to you.
"Life Is A Dream" runs through May 31 at Deep Dish Theater in University Mall.