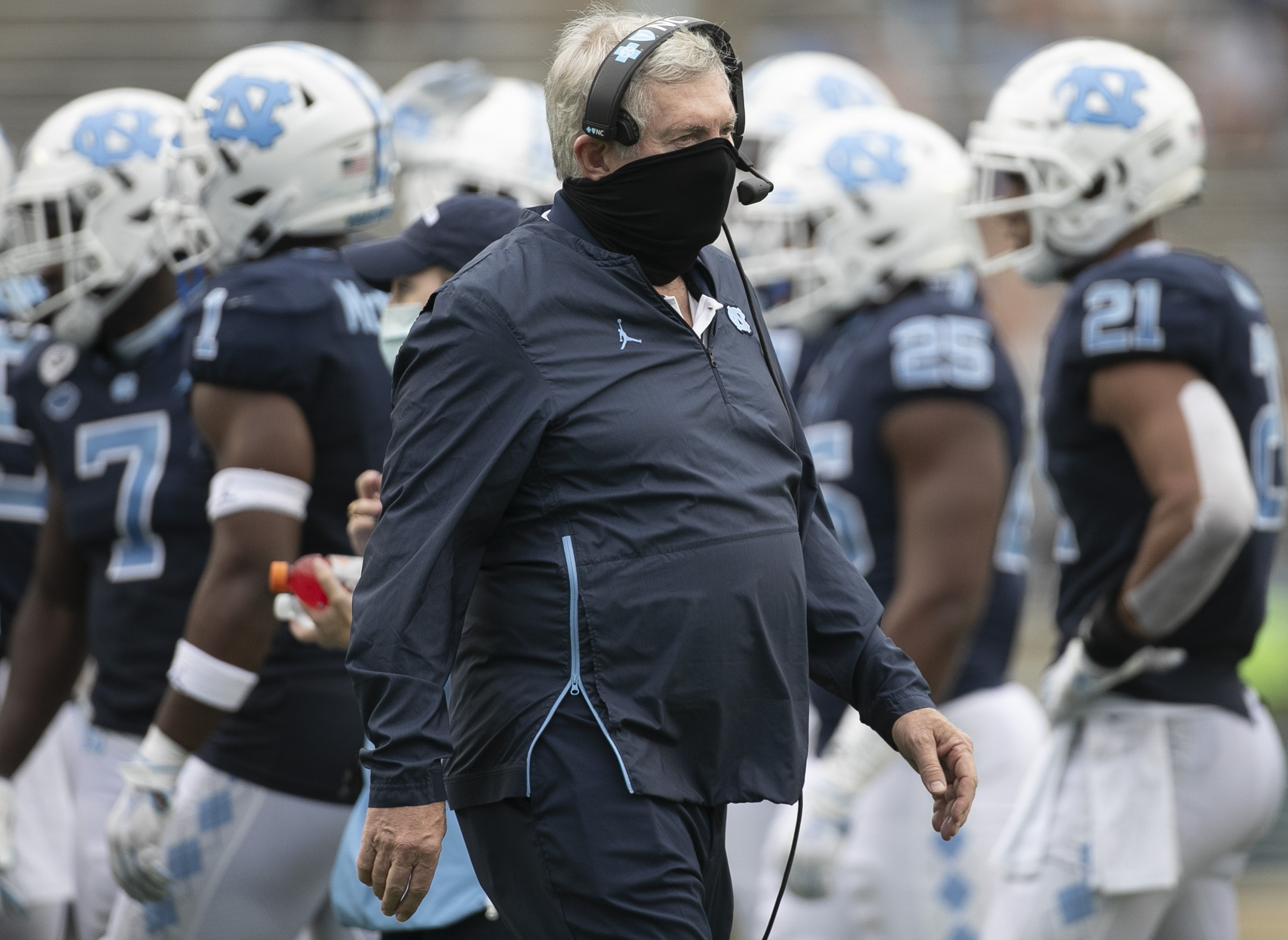 Heading to Tallahassee this weekend for the program's first game as a top-five ranked team since 1997, the UNC football team is hoping it can put together a complete performance against Florida State to show it belongs in the same breath as the nation's elite.
Following Saturday's 56-45 win over then-No. 19 Virginia Tech — which was UNC's first game with both teams ranked since 2016 — the Tar Heels moved up three spots to No. 5 in the Associated Press Top 25 rankings.
The offense exploded for 656 total yards behind outstanding performances from tailbacks Michael Carter and Javonte Williams, who each gained over 200 yards from scrimmage.
Defensively, the Tar Heels ran into some troubles, however, twice allowing the Hokies to nearly come back from deficits of more than 20 points.
With that in mind, head coach Mack Brown has stressed to the team all week that the next step in their development is putting together an outstanding game on both sides of the ball. 
"We haven't played a full game yet as a team," Brown said. "We had the defense played really well against Syracuse, but the offense stood around most of a half and late third quarter. Fourth quarter, they blew them out. But it wasn't a full game. 
"At Boston College, neither one played a full game," the coach added. "And then Saturday [against Virginia Tech], our defense didn't get done what they wanted to get done and our offense played as well as I've seen anybody play on offense in a long time." 
Standing in the way of the Tar Heels this weekend will be a Florida State team that has struggled mightily in the first year under new head coach Mike Norvell, having limped to a 1-3 record with the only win requiring a comeback to defeat FCS opponent Jacksonville State.
The Seminoles have also dealt with a quarterback change and Norvell taking a short absence after contracting COVID-19.
Despite these struggles, Florida State is still full of talented players and is expected to have a crowd of 19,000 fans in attendance trying to will their team to an upset win.
UNC quarterback Sam Howell, who was once committed to the Seminoles before deciding to join the Tar Heels, knows all too well that this isn't the kind of opponent to take lightly. 
"They're a really good team," Howell said. "Their record doesn't really show how good they are. They're very talented and I think this is the most talented team we've played so far. So, it's a great matchup for us. We've got to be prepared." 
An interesting note about Saturday's showdown is that the last time UNC played a game while ranked in the top five came in a 20-3 loss at home against a Florida State team ranked No. 2 in the country in November of 1997. It was also the final year of Mack Brown's first tenure in Chapel Hill.
Fast forward to this week and Brown is back in charge at UNC and the Tar Heels are right back where they were when he left—ranked in the top five with a chance to take down the Seminoles in prime time.
While a dominant win would go a long way toward proving the Tar Heels' ranking is no fluke, senior linebacker Chazz Surratt isn't trying to let of any of that talk get in the way of the team's preparations. 
"It's pretty cool to see us in the top five in the country, but at the same time, it's really quick to get taken away," Surratt said. "As soon as we lose a game, people will be on us. I think just staying the course, playing one game at a time I think is the best way. 
"Come out and practice hard and play hard, I think that's all we can do," he continued. "I don't think looking ahead will get us anywhere, and thinking that we're better than we are won't do anything, either." 
Photo via ACC Media
Chapelboro.com does not charge subscription fees. You can support local journalism and our mission to serve the community. Contribute today – every single dollar matters.