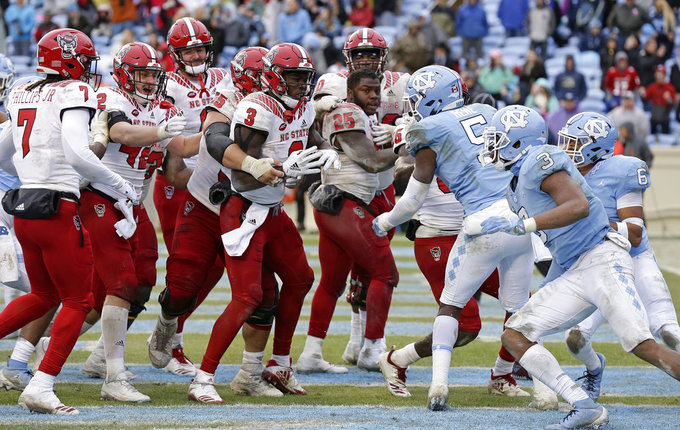 Former UNC head coach Larry Fedora may not have seen the fight following his final game in charge of the Tar Heels, but it seems that the ACC was able to see something when looking back at the video.
On Monday, the league announced a handful of suspensions related to the brawl–with four UNC players and three members of the Wolfpack issued bans that will last for one half of football in their team's next games.
For the Tar Heels, linebacker Dominique Ross, safety J.K. Britt, cornerback Patrice Rene and defensive lineman Jeremiah Clarke were each reprimanded for their actions.
Both Britt and Clarke will not actually have to serve any suspension, however, since they are seniors and UNC doesn't have any games left this season.
Ross and Rene will have to sit out one half of the Tar Heels' 2019 season opener against South Carolina.
NC State still has one game remaining on its schedule prior to bowl season–this Saturday against ECU–meaning that Freddie Phillips Jr., Tyler Jones and Justin Witt will each miss half of that game.
Boy it got ugly down there! pic.twitter.com/bma4x5qMNv

— Jonas Pope IV (@JEPopeIV) November 24, 2018
Photo via Gerry Broome (Associated Press)