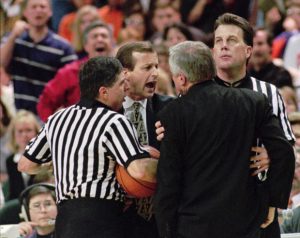 Rick Barnes loves Orange against Carolina Blue.
Expect a very difficult game Sunday at Tennessee, where the 20th-ranked Volunteers are 7-1 and on a four-game winning streak. This is a serious threat to the No. 7 Tar Heels, who will be facing a team whose only loss is by nine points at top-ranked Villanova. The Vols are undefeated against ACC teams, having won at N.C. State and Georgia Tech, and don't show any signs of slowing down soon.
Plus, the Vols are coached by old Carolina nemesis Rick Barnes, the North Carolina native who says he grew up either rooting for or against the Tar Heels, depending on which story you read. Let's go over Barnes' history with Carolina basketball.
At the 1995 ACC tournament in Greensboro, Barnes became a hero to Clemson fans when he took on Dean Smith in a face-to face shouting match at the scorer's table during a first-round loss to the fourth-ranked and Final Four-bound Tar Heels.
The next year on the same court, after Smith lost Stackhouse and Wallace to the NBA, Barnes' Tigers stunned Carolina on a last-second dunk in a first-round shocker that further endeared him to Orange Tiger fans. The next year in Chapel Hill, the 19th-ranked Heels started their remarkable run back to the Final Four by upsetting No. 2 Clemson in a game with so many fouls that Barnes had four players left on the court by the end of the 61-48 loss.
Barnes then left for Texas, where the burnt Orange also tangled with Roy Williams' Kansas teams in the old Big 8/current Big 12. Plus, don't forget that Barnes' Longhorns knocked the Tar Heels out of the NCAA tournament in ol' Roy's first year back in Chapel Hill and beat them four more times before Barnes left for Tennessee three years ago. Last season, the Vols led the Heels virtually the whole way at the Smith Center before losing.
At Texas, Barnes was 5-1 against Carolina, and he's a good coach who knows how to play the baby blue. The Vols have eight guys who get at least 20 minutes a game and have four averaging in double figures. They aren't household names like the Tar Heels, but they can score, have size and play under a good coach in front of a rabid crowd of 20,000-plus.
All that, and they wear Orange – which is obviously Rick Barnes' favorite color. Don't be surprised if Carolina plays well on the road but still comes home with its second loss.
Podcast: Play in new window | Download