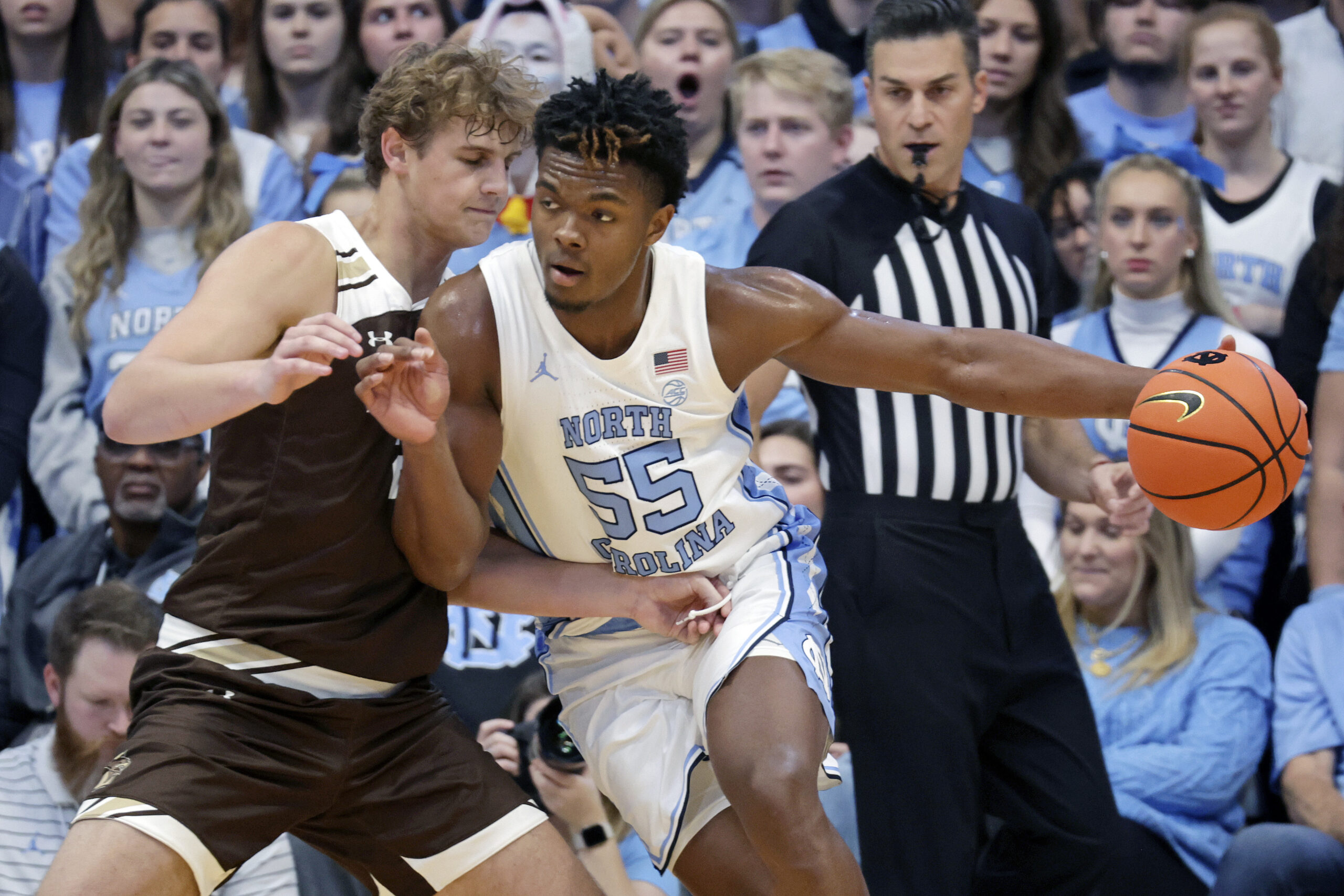 Art Chansky's Sports Notebook is presented by The Casual Pint. YOUR place for delicious pub food paired with local beer. Choose among 35 rotating taps and 200+ beers in the cooler.
---
If the Tar Heels go to a regular rotation, who will they be?
Dean Smith liked to settle on eight men with a first forward substitution and first guard off the bench, plus an eighth man to be used where needed and be ready for the second half. Roy Williams was one to experiment more but once he found his formula, he stuck with it.
If Hubert Davis mirrors his two mentors, who will his top eight or nine be moving into the Battle 4 Atlantis and beyond against rugged Tennessee on November 29 and the ACC opener versus Florida State leading off December?
After three warm-up games and with stiffer competition on the schedule next week, how will Davis share the 200 minutes per game?
Following a full summer practicing with his new team, he has already calmed critics worried about Carolina having one of the least-used benches in college basketball. Heading into Friday's third game versus UC Riverside, Hubert has used 10 of 11 scholarship players for at least 10 minutes.
The starters so far – Armando Bacot, R.J. Davis, Harrison Ingram, Paxson Wojcik and Cormac Ryan – could change with the continued emergence of freshman Elliot Cadeau and Louisville transfer Jae'Lyn Withers.
With West Virginia transfer James Okonkwo not in the mix for now, Jalen Washington and Seth Trimble have been the eighth and ninth men in terms of minutes, with promising freshman post player Zayden High coming in early and playing situationally for the rest of the game.
Much of Davis' rotation will depend on Cadeau, the flashy point guard who already leads the team in assists with Ryan. While not yet a reliable shooter (38 percent from the floor and 0-for-4 from the arc), Cadeau is key to getting the running and passing game back into Carolina basketball.
Withers, who started for Louisville last season and averaged 13 points, is an intriguing addition. Listed at 6-9, he can play even bigger and also moves well on defense with three steals. If he were to start, Stanford transfer Ingram would move to small forward and reputed outside shooter Ryan to big guard.
That, of course, could leave 6-5 Wojcik out of the starting lineup but continue to share backcourt time with Ryan and Cadeau alongside R.J. Davis, who will lead the team in minutes played. Matchups against bigger guards factors into the blend, since using two 6-foot-1s can be hazardous on defense.
Coach Davis says playing time will be determined by how well the reserves prove themselves in practice and do in games. But, as the schedule toughens, it is likely most players will know their roles before each tipoff.
Featured image via Associated Press/Chris Seward
---

Art Chansky is a veteran journalist who has written ten books, including best-sellers 

"Game Changers," "Blue Bloods," and "The Dean's List." He has written and worked for WCHL for decades, having made his first appearance as a student in 1971. His

 "Sports Notebook" commentary airs daily on the 97.9 The Hill WCHL and his "Art's Angle" column runs weekly on Chapelboro.
---
Chapelboro.com does not charge subscription fees, and you can directly support our efforts in local journalism here. Want more of what you see on Chapelboro? Let us bring free local news and community information to you by signing up for our biweekly newsletter.