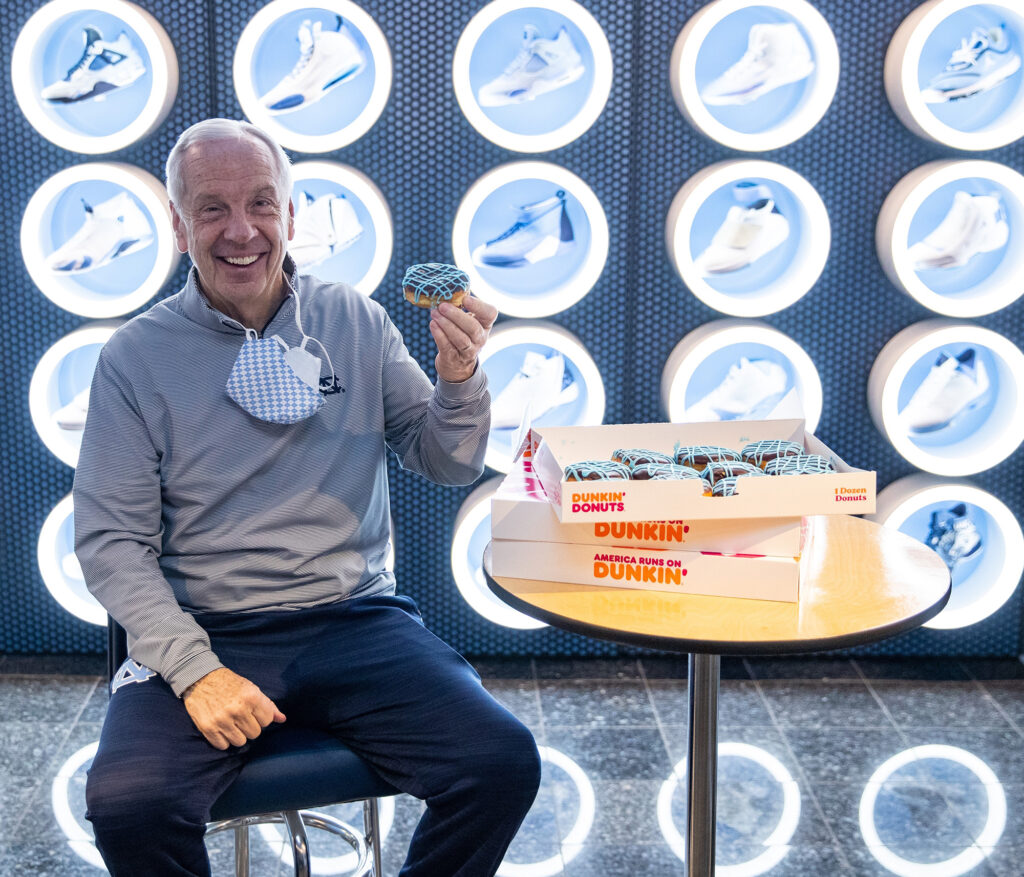 Roy Williams has teamed up with Dunkin' to release a limited-time-only doughnut — the proceeds of which will go towards several great causes.
The "Ol' Roy" is Williams' favorite Dunkin' doughnut, the Boston Crème, that sports a Carolina blue icing. It will be sold in all participating restaurants throughout North Carolina with 50 cents from each donut sale between March 14-27 going to the UNC Children's Hospital and Second Harvest Food Bank of Metrolina.
"I am grateful for the opportunity to team with Dunkin' to provide financial assistance to these worthy causes through the sale of this custom Boston Crème. It's a fun way for fans of all teams to support the work at the Children's Hospital and Food Bank," said Williams in a release.
Cameron Shoaf, the coordinator of special events at UNC Children's Hospital, said they were grateful to receive support from Dunkin' during the campaign.
"We are extremely grateful for the support we have received from Dunkin' and its franchisees who have provided countless donut and coffee donations for our healthcare workers, grants from Dunkin's Joy in Childhood Foundation, and now the Ol' Roy Donut benefiting our hospital," said Shoaf.
Second Harvest Food Bank of Metrolina works to eliminate hunger by the solicitation and distribution of food. Last year, Second Harvest Food Bank of Metrolina distributed over 70 million pounds of food and household items to over 800 hunger feeding agencies.
"Our friends at Dunkin' have been wonderful supporters of our mission to end hunger for quite some time. Their dedication to feeding our neighbors in need in a 24-county service region is visible through their hours of volunteerism and grant opportunities for child hunger programming," said Kay Carter, CEO of Second Harvest Food Bank of Metrolina.
It remains to be seen if the Ol' Roy doughnut helps UNC's NCAA Tournament standings. The Tar Heels are currently projected as a 9-seed in the tournament by NCAA.com's Andy Katz.
In the ACC Tournament, UNC is scheduled to play the winner of the first-round game between Notre Dame and Wake Forest on Wednesday.
Featured image via Dunkin'
Chapelboro.com does not charge subscription fees. You can support local journalism and our mission to serve the community. Contribute today – every single dollar matters.