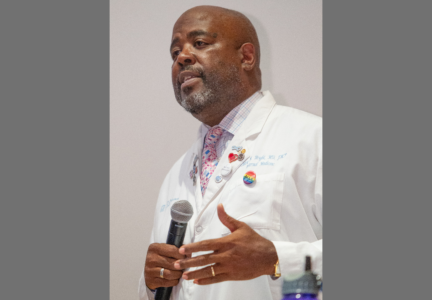 Dr. Cedric Bright with the UNC School of Medicine helps students realize their potential for becoming doctors while diversifying the student body to create a wide pool of doctors more prepared to address the needs of North Carolinians.
As the Associate Dean of Inclusive Excellence, Dr. Bright runs the Medical Education Development program, which was started in 1974 and is funded by a grant from the Health Resources and Services Administration.
"The grant was established in order to try to level the playing field for students who were coming from historically black colleges and universities and from small colleges to predominantly white institutions in order to attend graduate school," said Dr. Bright.
Since 2004, the program has seen over 1,200 participants with over 50 percent of students gaining entrance into a graduate program. Of the participants, 212 have gone on to become doctors, 90 have become dentists and 124 have graduated with a masters in science.
A graduate of the MED program himself, Dr. Bright says the program helped prepare him for the rigors of work he needed to be successful.
"This program helped me to understand. It gave me the academic shock. It helped me to understand how rigorously I needed to apply myself in order to be successful in medical school."
Through the MED program, Dr. Bright has helped UNC become a national leader in motivating students from all backgrounds.
"From 1984 to 2012, UNC-Chapel Hill was number six in graduating African Americans and number five in graduating Native Americans from medical school."
---
---
One of the ways that Dr. Bright looks at the success of the program is by how many of their students end up practicing within North Carolina."
"When we look at our African Americans in this state, we may only make up 12 percent of all the physicians in the state," said Dr. Bright. "But those that graduated from UNC are MED participants are almost 55 percent of those physicians. When you look at the Native American population, we're almost 60 percent of those physicians that practice within this state."
According to Dr. Bright, the economic impact from the MED program stems from the students going back and giving to the communities they came from.
"They serve in rural areas and they serve in many of our tier one counties, which is some of our poorest counties and least resourced. That's where these students actually came from. That's how we identified them. Well, what's so important, they actually go back and give back to those communities for which they came."
---
---
Featured image via UNC Health Care