9/10/19 – Led Zeppelin "Over The Hills And Far Away"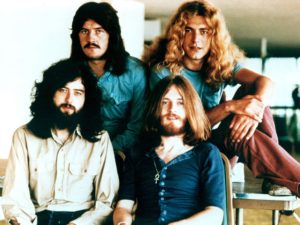 I've got LED ZEPPELIN music in my head today. And when you've got LED ZEPPELIN music in your head, you've GOT to let it out! And let it out LOUD!
It's one the greatest rock and roll bands on the planet, complete with elements of blues, folk, jazz, and even some good old-fashioned psychedelia thrown in there, too. (Watch this video and you'll understand the part about psychedelia.) Zeppelin is certainly one of the most influential bands on the planet and the pure musicianship is always great. The lead guitar genius of Jimmy Page, the vocal gymnastics of Robert Plant, the bombastic pounding of the drums from the late John Bonham, otherwise known as "Bonzo." And the versatile contributions of bass player and keyboardist, John Paul Jones.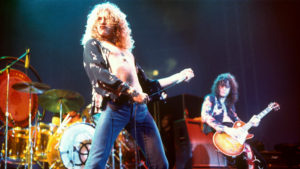 Zeppelin has put out some wonderful music. It would be difficult to argue their membership in rock royalty. I know people who are absolutely obsessed with Led Zeppelin's music, decades after the band's heyday back in the 70's. And I don't blame them. The first song I ever heard from the group was "Whole Lot Of Love." And, of course, some say "Stairway to Heaven" may be the greatest rock song ever recorded. Of course, since it's been played to death by Classic Rock stations over the years, it's lost some of its appeal to some simply because they're tired of hearing it. I, on the other hand, am not. Just for the record. "Kashmir" is another one of my favorites, along with "Immigrant Song," "Good Times Bad Times," "Communication Breakdown," "Dazed and Confused," and so many others. And they took some old blues songs and rocked 'em up Zeppelin-style. "Babe, I'm Gonna Leave You," and so many more. "When the Levee Breaks" is another good one, and I always think of it anytime there's a hurricane. "Ramble On" is another one that really rocks. There's "Misty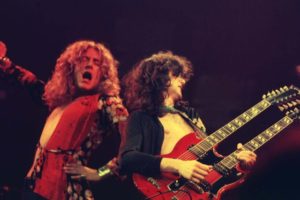 Mountain Hop," and some of the ones I haven't named are just as important to me as the ones I have. These are just the ones that are coming to me in a stream of consciousness.
The song on my mind today is "Over The Hills and Far Away." So…take a little trip with me now, with Led Zeppelin…and "THE MUSIC IN MY HEAD!"