8/5/19 – Van Halen "Why Can't This Be Love?"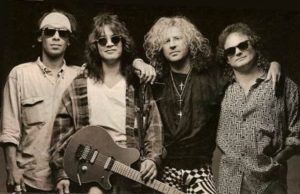 One day last week, I played this song on my morning show, and it's been popping into my head off and on ever since…including this morning.
VAN HALEN is one of the all-time great rock n roll bands. You couldn't live through the 80's without Van Halen being at least a part of the soundtrack of your live. There's a lot of debate out there about which version of Van Halen is better—the David Lee Roth version, or the one with Sammy Hagar singing lead. I think they were both great, to tell you he truth. During the Roth years, lots of great songs spring to mind…from "Jump" to "Hot For Teacher" to "Running With the Devil." He left, though, in '85, and soon the group hired Sammy Hagar to take over on lead vocals, and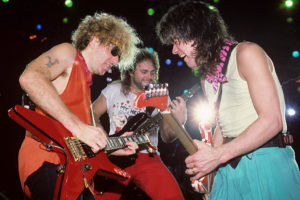 while he was up front the band rocked the house with "Finish What You Started," "Right Now," and several more, including the one that's in my head today.
A lot of fans say David Lee Roth was great and Sammy Hagar was never "the man." I don't understand why they can't appreciate both singers for what they brought to the group. With Roth, there was a certain flamboyant swagger with his in-your-face brand of showmanship never in question…and with Hagar, there was another individual never short on ego, with a different vocal range, and he also brought guitar skills to the group. To differentiate the two eras, about the time of the switch, Eddie Van Halen, the group's guitar guru, seemed to become fascinated with the keyboard and the synthesizer, which changed the sound quite a bit. The lead singer was certainly not the only thing that made Van Halen sound different. Hagar was and still is known as "the Red Rocker," since he used to wear a lot of red on stage, and he had success fronting a group called Montrose, and then as a solo artist, long before he joined Van Halen.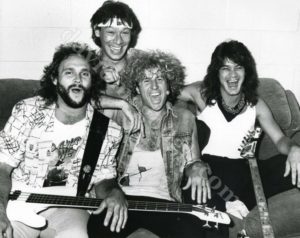 Remember "I Can't Drive 55?" Yeah, that was Sammy Hagar. He has an autobiography out there called "Red." It's an interesting read. Sammy has an amazing history, involving not just rock and roll but also fast cars, a club in Mexico, and a lot of tequila! He even has his own show these days on AXS TV.
The song that's playing in my brain today is "Why Can't This Be Love?" Give it a listen. And, by all means, crank it up!