8/19/19 – The Friends of Distinction "Love Or Let Me Be Lonely"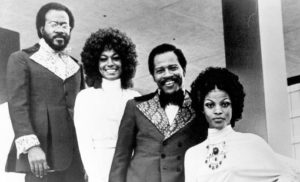 I spent some time in Raleigh yesterday, and heard a song I hadn't heard in a long time! It was Friends of Distinction, a great vocal group, sort of similar to the more famous Fifth Dimension. In fact, I'm betting that most people have heard Friends of Distinction and came away thinking it was The Fifth Dimension! The first time I ever heard the group was in the summertime of 1968, when they did the song, "Grazing In The Grass." That song was first recorded in the summertime of 1968 by Hugh Masekela, it was an instrumental, and went all the way to #1 in the nation. About a year later, Friends of Distinction came along and did the song. They put words to it, though, and the vocal version of the song was a hit all over again. It didn't make #1, but it certainly put the group on the map. It's hard to hear that song and not join in the sing-along part. You know…..the "I Can Dig It, You Can Dig It, We Can Dig It" part!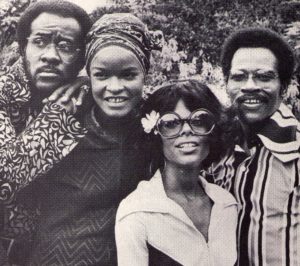 Friends of Distinction came out of Los Angeles. There were 4 of them—all talented. There were 2 men and 2 women. 2 of the group had spent time previously in a group called The Hi-Fi's. Sometimes The Hi-Fi's open for Ray Charles back in the mid-to-late 60's. Interestingly enough, I mentioned The Fifth Dimension earlier. 2 of them—Marilyn McCoo and Lamont McLemore were members of The Hi-Fi's, and they went on to form The Fifth Dimension. So there are some real connections with these 2 singing groups. It Is said that Jim Brown, Hall of Fame football player discovered the Friends of Distinction, just as he had discovered Earth, Wind & Fire. That's a pretty strong claim to fame, even if he wasn't a great running back in the NFL!
Anyway, Friends of Distinction had that huge hit, "Grazing In The Grass," which had everybody singing along. The follow-up song was a slow ballad, called "Going In Circles," and it was a big hit, too. Then came "Love Or Let Me Be Lonely," which made it all the way to #6, and that's the song that's stuck in my head today! Check it out!