8/13/19 – Eric Clapton "I've Got a Rock n' Roll Heart"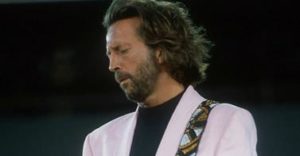 When there's a conversation about the greatest rock and roll guitar players of all time, there are a few names that always come up.
JIMI HENDRIX is usually the first one mentioned, and he would be my personal favorites. JIMMY PAGE of Led Zeppelin fame gets talked about. And the same goes for ERIC CLAPTON. Sometimes, fans bring up EDDIE VAN HALEN, or STEVIE RAY VAUGHAN. DUANE ALLMAN. Maybe JEFF BECK, or KEITH RICHARDS. CARLOS SANTANA. Inevitably, someone will bring up a real pioneer, like CHUCK BERRY. Blues guys like B.B. KING and BUDDY GUY. Sometimes, even ROBERT JOHNSON. My point is that I don't really know the greatest of all time….it's all subjective depending on your tastes, but there are certain names that are guaranteed to be brought up, and one of those would be ERIC CLAPTON.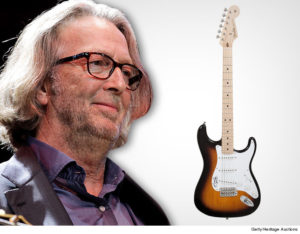 A CLAPTON song was in my head this morning when I first woke up….and it's not one that really showcases his playing ability so much, but it's a tune that reflects an attitude. But more on that in a moment.
Eric Clapton got famous in the late 60's, first as a guitarist with The Yardbirds and then Cream. He's gone on to play with Blind Faith, Delaney & Bonnie and Friends, and, of course, he spearheaded the whole Derek & The Dominos thing. He's spent a lot of time with George Harrison (another great guitarist) and he's played with just about everybody…even recording an album with the legendary B.B. King. No question, Clapton is one of the best. He's still performing these days, even though he's slowed down a lot (after all, he is now 74 years old!) At one time, there was graffiti all over London, saying, "Clapton is God." That's a mighty high bar. He's the only 3-time inductee in the Rock and Roll Hall of Fame, as a member of Cream, as a member of The Yardbirds, and as a solo artist, too. He's had a huge influence on a lot of other artists, as well.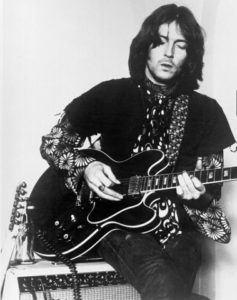 The song running through my mind when I woke up this morning was "I've Got A Rock n' Roll Heart." It's off his 1983 album, entitled "Money and Cigarettes." And it goes kinda like this: "I get off on '57 Chevys. I get off on screaming guitar. I don't need no glitter. No Hollywood. All you got to do is lay it down and you lay it down good. I've got a rock and roll, I've got a rock and roll heart." That pretty much sums it up for a lot of us. I mean, I don't care that much about '57 Chevys, but otherwise, it's all true. Maybe it's true for you, too?
Here's ERIC CLAPTON and "I've Got A Rock n' Roll Heart."