6/19/19 – The Allman Brothers Band "Revival"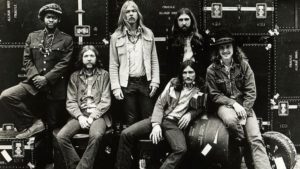 Last night I knew that Don Eason of Idlewild South was coming in today… so naturally, that got me started on THE ALLMAN BROTHERS BAND!
I listened to some of their music…. and so, naturally, I woke up with one of their tunes playing in my head today.
Don Eason is the keyboard player and the leader of a great Allman Brothers Tribute Band, Idlewild South. They will be playing here in Chapel Hill at Southern Village this Sunday at 6 PM, and also at the big 4th of July Fireworks celebration! They took their name from The ABB's 2ndalbum, released in early 1970. The legendary group's first release was self-titled, then came "Idlewild South," which features "THE MUSIC IN MY HEAD" today…and then, The Allman Brothers really hit it big with their next album, which came out in 1971. It's one of the best LIVE albums out there. That's when the whole music world really found out about this Southern Rock group, and it was on from there!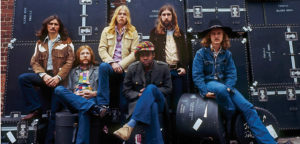 There are so many great songs in the fantastic catalog of The Allman Brothers! There's "Whipping Post," "Midnight Rider," "Melissa," "Ain't Wastin' Time No More," "Southbound," "Ramblin' Man," "In Memory of Elizabeth Reed," and "Jessica." Plus, there's "One Way Out," which is probably my all-time favorite, and "Soulshine," and "Dreams." Plus "Black Hearted Woman," "It's Not My Cross To Bear," and "Blue Sky." There are so many, I could go on and on…but the song that found its way into my brain this morning is "Revival!" (People, can you feel it? Love is Everywhere!) This was the first song where Dickey Betts got the writing credit! I love it, not only because it's a great song, but also because of its incredibly positive message. Listen, and you'll see what I mean!
And don't forget to check out Idlewild South, if you haven't, already…! Now…… these are The Allman Brothers!