3/22/19 –  Earth, Wind & Fire "Saturday Night"
Every time I hear Earth, Wind & Fire music it puts me in a great mood. They're just that kind of band. Everything these guys have done is positive! The great Maurice White grew up in Memphis, surrounded by all these great musicians and musicianship! He was inspired by it every day. He was the founder of the band, and not only ended up singing lead on most of their songs, sharing those duties with Phillip Bailey, but also he served as the band's primary songwriter and arranger…plus he produced Earth, Wind & Fire during all its most productive years. He died about 3 years ago at the age of 74, but the band carries on, maintaining that strong spirit that Maurice put there in the first place.
Earth, Wind & Fire has always incorporated a lot of different kinds of music. Rock, soul, funk, jazz, disco—you name it! Any time you hear them, or see them, they're always happy and upbeat, and they bring that feeling to the music, too. In their videos, especially, they're jumping around, dancing, smiling, and just having the time of their lives, and it's downright contagious. It's easy to hear E, W & F, and then just break out into a big smile! Even though Maurice is gone, Phillip and the rest of the guys are still out there making music and putting on their energized shows. There have been numerous personnel changes over the years, but that's pretty common with every band that's been around since 1969.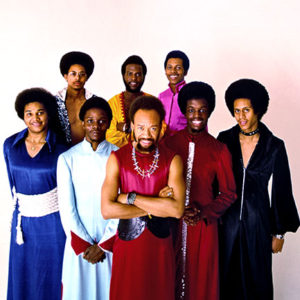 My favorite Earth, Wind & Fire song has always been "September," and that's been the subject of a previous column for "The Music In My Head." This tune that's in my head today is just as upbeat. Just think of all the great songs they've given us over the years: "September" would have to be at the top of the list! And there's "Let's Groove," "Boogie Wonderland," and "Fantasy." "Shining Star" and "Sing A Song." There's "In The Stone" and "Serpentine Fire." "That's The Way Of The World." "Mighty Mighty." I could go on for days. They even did their own creative version of "Got To Get You Into My Life," which featured the Earth, Wind & Fire Horns. "The Music In My Head" today is a song called "Saturday Night," and I can't think of a better song to play with a great sunny weekend coming up! Make it count! This is Earth, Wind & Fire with "Saturday Night!"