11/13/19 – Faces "Stay With Me"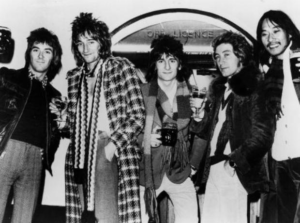 Are you ready for some good old-fashioned rock and roll? "A Nod Is As Good As A Wink To A Blind Horse!"
That's the name of an album recorded by Rod Stewart and Faces in 1971. I can remember sitting around with my friends and listening to every cut on that album. It rocks really hard, and I've always loved it. Especially this song! "Stay With Me" was written together by Rod Stewart and his running mate and rooster lookalike, Ronnie Wood. Long before Wood hooked up w  ith The Rolling Stones and started exchanging leads on guitar with Keith Richards, he was in Stewart's raucous band of good-time rock n roll musicians, and oh, man, could these guys play! It was fast and loud. And according to everything I've ever heard or read, it's a good way to describe their lifestyle at the time, as well. This particular song is all about a potential one-night stand, but Rod sings, "Don't be here in the morning when I wake up!" The height of responsible behavior, right?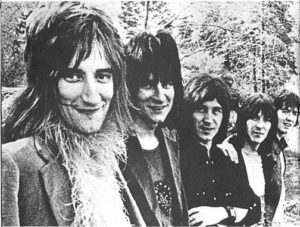 Rod's singing about a woman by the name of Rita… with "red lips, hair, and fingernails," and he says, " I hear you're a mean old Jezebel." And later on in the song, he even says, "Hey, what's your name again?" Not exactly lyrical genius, but the song rocks hard, much like another song the guys did, "I Know I'm Losing You," which was actually an old Motown song by The Temptations. This one totally belongs to Rod and Ronnie, though, and their performance was amazing. At least, I think so.
Ronnie still plays a mean guitar with The Stones, but these days I don't think I would walk down the street to see Rod Stewart in concert. (Of course, he's 74 years old now, and has had a lot of success singing old standards. It's just not my thing.) Back then, though, I loved 'em. And turning back the clock with this one reminds me just how good they were. What a great band! Before you listen, crank up the volume on this one!