11/1/19 – The Who "Slip Kid"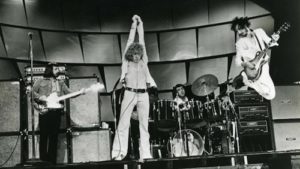 I don't know how this song got into my head today. I haven't heard it in a long time. I supposed some suppressed memory popped up and suggested it.
THE WHO is certainly one of the most important rock bands of all time. In terms of popularity, and in terms of influence on other artists over the years. Roger Daltrey, Pete Townshend,
John Entwistle, and Keith Moon made quite an impact! They've sold well over 100 million records all over the world, so a lot of rock fans are sold on them!
The Who first got together in London back in 1964. They sprang out of a group called The Detours, and they were famous not only for being loud, but also for smashing their guitars and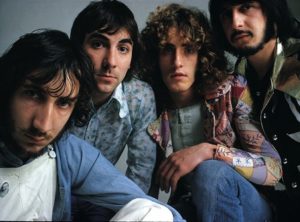 destroying their drums on stage. I suppose they couldn't afford to ke  ep that up for very long (all those replacement instruments would expensive to buy) and they soon morphed into The Who. Their very first hit record was "Can't Explain." From there, they recorded the iconic "My Generation," and "Happy Jack." Also in the early days, they recorded a song called "Can't Explain." They really started to catch on across the pond, too, here in the United States. They were, of course, part of The British Invasion, a movement started by The Beatles, and joined in by The Dave Clark Five, The Animals, Herman's Hermits, The Searchers, Gerry & the Pacemakers, and so many others. In 1967, The Who further established themselves by performing a stellar set at the Monterey Pop Festival in California, and the rest, as they say, is history. There was "I Can See for Miles," "Pinball Wizard" and other music from their rock opera, "Tommy," and then Woodstock, and a great live album called "Live At Leeds." I could go on forever talking about famous songs from The Who. "Won't Get Fooled Again," "I Can See For Miles," and so many more. I think we've all heard them a time or two!
These days, music from The Who can be heard on all the CSI television shows. Theme songs, like "Who Are You," "Won't Get Fooled Again," "Baba O'Reilly (better known as "Teenage Wasteland," and "I Can See For Miles." It's hard NOT to hear The Who, even after all these years. Townshend is generally regarded as a musical genius, and his trademark move is his "windmill" guitar playing.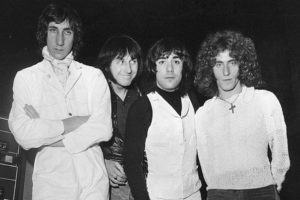 (He has since admitted that he "borrowed" that particular move from Keith Richards of The Rolling Stones. He just exaggerated it.) Keith Moon is no longer with us, but during his time, he lived the quintessential rock 'n roll lifestyle. He sort of self-destructed, but his drumming was, without question, some of the very best.
The song that crept into my head first thing this morning is from 1975, from the album, "By The Numbers" that came out in 1975. It's "Slip Kid." Take a listen and the music will be in your head, too!