10/8/19 – Lynyrd Skynyrd "Tuesday's Gone"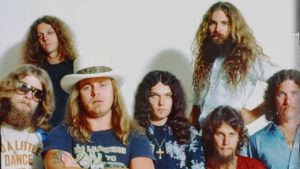 I had no music in my head when I first woke up this morning. Seriously. Nothing. First time that's happened in a very long time. It was quite disturbing. So I stumbled into the other room to take a shower, glanced in the mirror and said to myself: "Gotta get going. It's Tuesday." And right away, a song popped into my head and everything got back to normal. I guess my mind must have been a little foggy today and it took some extra time to get going. What was the song? "Tuesday's Gone" by Lynyrd Skynyrd. All my brain needed was a little nudge.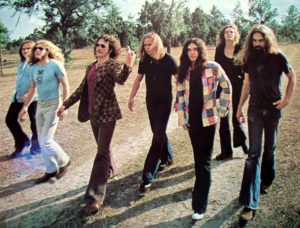 "Tuesday's Gone" goes back to the early days of Lynyrd Skynyrd. It was on their very   first album, in fact, released in 1973. The very first time I ever heard this band, I remember thinking: "Those guys are really good musicians." Listen to this song, and I think you'll have to agree. I don't think this song has any deeper meaning to be discovered. It's about a guy who's jumping on a train to get away. Leaving this woman behind. He doesn't know where he's going…he just knows he's got to get away. That's it. "Train roll on. On down the line. Won't you please take me far away?…..Tuesday's gone with the wind….my woman's gone with the wind."
You know, I love a lot of Lynyrd Skynyrd's songs: "Call Me The Breeze," "Saturday Night Special," "Sweet Home Alabama," and yes, even "Free Bird." More and more, though, I find myself liking their slower, more mellow stuff. "Simple Man" is my favorite Skynyrd tune. And I really like this one, too. "Tuesday's Gone." Today, it's "The Music In My Head." Now, I want to put it in yours!