10/23/19 – Paul McCartney "Happy With You"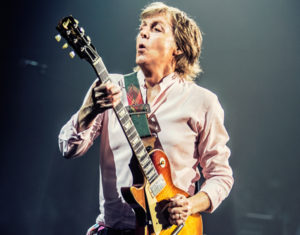 I mentioned on the show this morning that today is my wedding anniversary, and got some calls and texts from folks congratulating me. But it's NOT me who deserves the credit. 100% of the accolades should rightfully go to Bev, who has managed to put up with me for 37 years. Hard to believe, but it was October 23rd of 1982 when we got married. We've been through our up's and down's just like anybody else, but after all this time, it's cool. We're empty nesters now, except for our cat, Frank, and the occasional visit from other pets in the family, but our kids live here in North Carolina, and we can see them fairly often, which is great. We're both still working hard and long hours, but we enjoy doing a lot of the same things: going out to a good restaurant for a good meal, maybe a concert or a movie, or just staying home and being lazy. I think it's pretty important just to enjoy spending time with each other.
I'm not making this up…It actually happened….When I woke up this morning at my usual undignified early hour, the song that popped into my head was one that just came out last year, which is unusual in itself. It's from Paul McCartney and it sort of sums up the way I feel. In addition to being a nice, laid-back song, Paul's lyrics manage to say it all, too. The first time I ever heard it was when I played his most recent album, "Egypt Station." (Bev ordered the CD for me the minute she found out he had a new release in the works.) Right away, it was my favorite of his new songs. I first thought, "Hey, Paul sounds like he is really happy with his life and his wife. Sometimes not doing anything special, but just satisfied with the way things are." We even talked about it, and to me, it summed up my feelings, too.
Here are some of the lyrics: "I sat round all day. I used to get stoned. I liked to get wasted, but these days I don't. "Cause I'm happy with you. I got lots of good things to do, oh yeah. I walked around angry. I used to feel bad. But nowadays my days don't have to be sad 'Cause I'm happy with you. I got lots of good things to do, oh yeah…….I used to drink too much. Forgot to come home. I lied to my doctor, but these days I don't. 'Cause I'm happy with you. I got lots of good things to do, oh yeah." Well, that's not all, but you get the point. It's a simple song, really. Nothing fancy at all.
I read somewhere that Paul said it was about how he was angry and in a really bad place after the breakup of The Beatles. There was a time when he was filled with bitterness about how it all ended, and it seemed at the time that people were trying to take away all the money he had earned, but more importantly, he just felt frustrated. So he drank too much, did a lot of drugs, and things were dark for a long time. But now, he's gotten past all that and he's happy. So, according to Sir Paul, it was more about overcoming negative feelings related to his bandmates, the music business, and all the other stuff. I prefer to hang onto my initial impression of what the song means.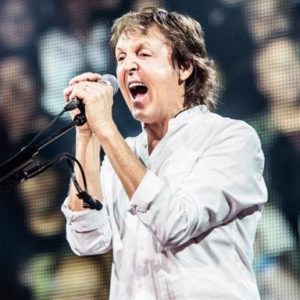 Bev is a wonderful wife and mother. She's a great Mom to our kids and I'm sure they would tell you the same thing. She keeps me organized, and that's not an easy thing. I'm sure living with me is not the easiest thing in the world, but somehow she manages to do it. Sometimes it must seem that I'm always on the radio or out there in the community doing something. I appreciate her hanging in there with me.
Several months ago, Bev and I went to see Paul McCartney in concert in Raleigh. The "Freshen Up Tour." I kept thinking during the whole show, "Damn, this is Paul McCartney." And she said the same thing. Honestly, it was one of the best concerts I've ever seen. He's an incredible showman, and, of course, everybody knows, he has a huge catalog of great songs to choose from when he's on stage. Aside from having to hear Bev and other women in the audience talk about how good Paul looked, it was a totally enjoyable experience. After loving The Beatles since 1964, I finally got to see this legend on stage, and it was well worth the wait. And actually, those tickets were a birthday gift from Bev. She always knows it's easy to buy for me as long as it's music-related. And seeing Paul was on my bucket list.
Paul McCartney is 77 years old now. I ain't that old, but it won't be all that long before I get there if I'm fortunate. Lately, people have been telling me I look like "an aging rock star." Not as good as Paul, to be sure, but I guess I'll take it! I've been thinking about all of this on the occasion of our 37th wedding anniversary. So I'll stop writing and just play the song. Happy Anniversary to the most tolerant woman I know. Here's Paul McCartney. "Happy With You." And I am.