8/31/17: Earth Wind & Fire "Sing a Song"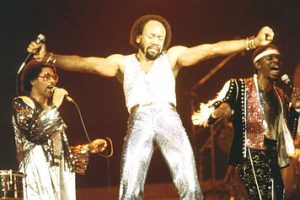 We all know Earth, Wind & Fire. Even if you've never paid their extensive back catalogue any attention — which would mean you were missing out on some excellent music — the legendary Chicago band has had an incredible influence on popular music as we know it today. Jumping genres across R&B, soul, funk, jazz, disco, pop, rock, Latin and African music, Maurice White and company have been making music described by Rolling Stone as "innovative, precise yet sensual, calculated yet galvanizing" for decades. Earth, Wind & Fire are a lot of things to a lot of people, but one thing's for sure: they're a musical force to be reckoned with.
The lineup of EWF has changed over the years, but their six Grammy awards, 12 American Music Awards and well over 100 million records sold tells you everything you need to know. A legendary horn section, incredible harmonies and interplay between instruments, and a string of hit after hit that topped the charts, from "Shining Star" to "September" made EWF the first African-American act to sell out the Madison Square Garden.
Earth, Wind & Fire make music to dance to, music that encourages celebration. So many of their songs are bursting with positivity and good vibes, and the music in my head today is definitely one of those! It's "Sing a Song,"which peaked at #5 on the Billboard Hot 100 when it was released. It's a song all about smilin' and believin', and the positivity and willingness to be open to something as simple as singing a song that keeps this world alive and in color. It's the kind of song we all could always use a little more of, so enjoy!
To read and listen to all of Ron's Music in My Head entries, click here!
---
After playing a show at The Cat's Cradle in July and at Local 506 in August; the School of Rock students' next public performance will be at the upcoming Carrboro Music Festival.
The School of Rock Chapel Hill is a music school for kids of all ages located in the 501 Diner location on Fordham Blvd in front of Eastgate Crossing.
Locally owned, locally operated, locally staffed, locally sourced instruments, and locally built!

Now Open for business, you are invited to stop in for a tour or schedule a free demo session. Their hours are Monday-Thursday 3PM-9PM and Saturday 10AM-4PM!  

Learn how to play a real rock and roll song in just 30 minutes!
AND, through a partnership with the Public School Foundation; they'll donate 1% of their gross revenue to support music in the local public schools, so help bring music to our community and enroll today!
Click Here to See Photos of the Grand Opening Celebration!
Sign-up at chapelhill.schoolofrock.com, or call 919-338-1011.
Open for Rocking!

'Music in My Head' airs every morning @9:15AM. Over the air on 97.9FM and streaming on chapelboro.com