10/10/17: The Dells "Wear It On Our Face"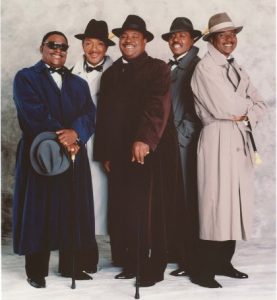 Today, it's that great R & B group, The Dells, out of Chicago!  They weren't as famous as some of the Motown groups out at the same time, but these guys were terrific.  Such great harmonies!  The Dells first got together way back in 1952, when they were in high school.  Back then, they called themselves The El-Rays.  It took a couple of years to get their first record contract, but then 2 years after that they came out with a great song, "Oh, What A Night."  To this day, it's still probably their best-known song, with the possible exception of "Stay In My Corner." But… I'm getting ahead of myself here!
One of the Dells was seriously injured in a car accident and the group disbanded for a while.  But in the mid-60's they were back together, and going strong.  They were hired to open up for Ray Charles, but "the Genius" fired them after a few shows, because they were getting "too many standing ovations." (and taking too much attention away from him!) They sang backup on a great song by Barbara Lewis, "Hello Stranger," and a lot of great songs followed, all featuring the incredibly strong baritone voice of Marvin Junior.  To me, he always sounded a little bit like Levi Stubbs of the Four Tops, except with more of a gospel sound! The Dells are in the Vocal Group Hall of Fame, The Rock
and Roll Hall of Fame, and their song, "Oh What A Night" appears on Rolling Stones' list of all-time greatest songs.  Most people don't know this, but years ago there was a movie called "The Five Heartbeats."  Without really saying so, that film was based loosely on The Dells.
The Dells are not performing anymore.  Several of the guys have passed away, including Marvin Junior, who passed away 4 years ago, at the age of 77. But they've got a couple of tunes guaranteed to put you in a better mood just by listening to them.  One is "There Is," and the other one is the one that's stuck in my head today.  It's called "Wear It On Our Face."  Listen to it and see if it doesn't make you feel better!
To read and listen to all of Ron's Music in My Head entries, click here!
---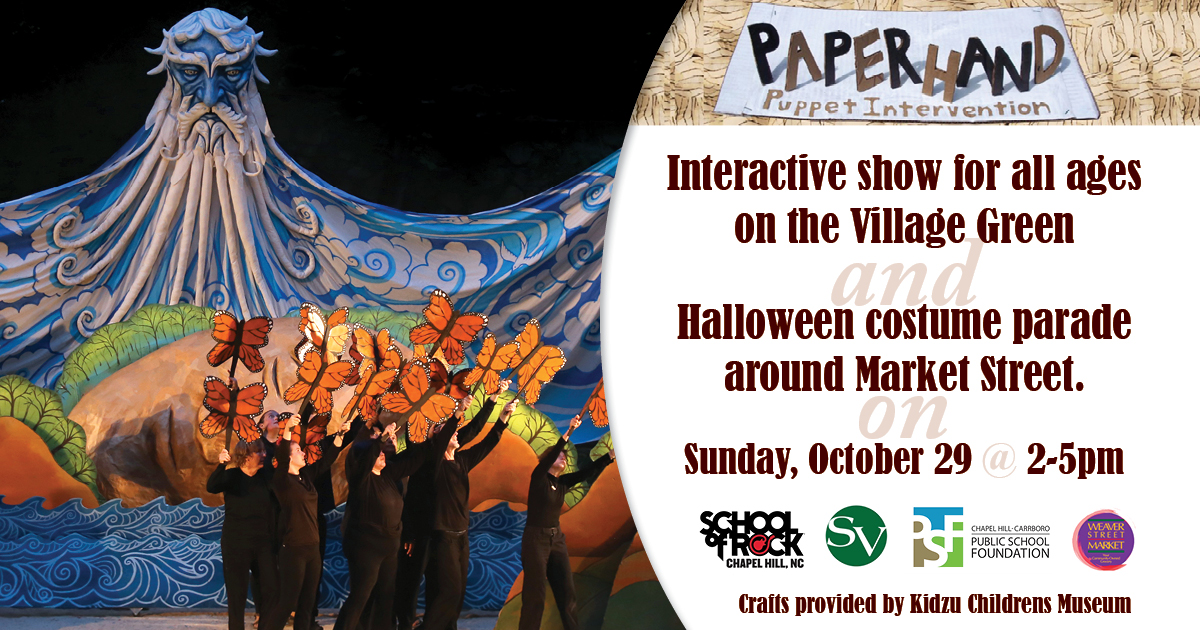 After playing a show at The Cat's Cradle in July and at Local 506 in August, and The Carrboro Music Festival in September; the School of Rock students' next public performance will be Sunday, October 29th on the Southern Village Green!
The School of Rock Chapel Hill is a music school for kids of all ages located in the 501 Diner location on Fordham Blvd in front of Eastgate Crossing.
Locally owned, locally operated, locally staffed, locally sourced instruments, and locally built!

You are invited to stop in for a tour or schedule a free demo session. Their hours are Monday-Thursday 3PM-9PM and Saturday 10AM-4PM!  

Learn how to play a real rock and roll song in just 30 minutes!
AND, through a partnership with the Public School Foundation; they'll donate 1% of their gross revenue to support music in the local public schools, so help bring music to our community and enroll today!
Click Here to See Photos of the Grand Opening Celebration!
Sign-up at chapelhill.schoolofrock.com, or call 919-338-1011.
Open for Rocking!

'Music in My Head' airs every morning @9:15AM. Over the air on 97.9FM and streaming on chapelboro.com