10/1/18: Simon & Garfunkel "Mrs. Robinson"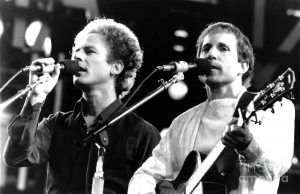 One of my favorite movies of all time is "The Graduate" starring Dustin Hoffman. It was a Mike Nichols film, and it was all about "Ben," played so well by Hoffman, just after graduating from college. What in the world was he going to do with his life? He was practically seduced into having an affair with a much older woman, and then happened to fall in love with her daughter. You can see how that might cause a serious problem! What a terrific motion picture, with a wonderful soundtrack—much of it provided by Simon & Garfunkel. There was "The Sound of Silence," which opened up the movie, and there was a terrific song called "Scarborough Fair," and "April Comes She Will. Great stuff. And never let it be said that Paul Simon can't write some fantastic tunes. The one that's most identifiable with the movie, though, is "Mrs. Robinson." The older woman was Mrs. Robinson, played by Anne Bancroft. Every time I hear the song, I'm transported back to 1968 when I first saw the movie, and I've probably seen it 10 times since then.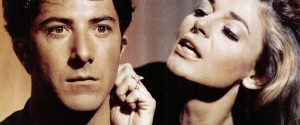 This is the first movie I can recall that relied so heavily on a soundtrack….I mean, unless you're talking about musicals. And over time, these songs have become so closely associated with the movie, you just can't imagine one without the other.
I don't think anyone needs to explain about Paul Simon & Art Garfunkel. They've provided us with so much great music over the years. So many big hit records that everybody knows. And, of course, Paul Simon is such a prolific songwriter, he's followed up his time spent with Garfunkel with an amazing solo career. The stuff they did in those early days, though, holds up pretty well today. And I will always think of "The Graduate" when I hear the song that's in my head today. Here's to you, "Mrs. Robinson!"