5/29/19 – Creedence Clearwater Revival "Up Around The Bend"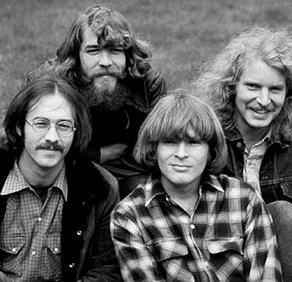 Creedence Clearwater Revival was a real hit-making machine in the late 60's and early 70's. And I think most people just assumed they were from Louisiana. Somewhere in Cajun Country. Their brand of swamp rock just sounded like it had to come straight out of the Bayou. But NO, CCR was from California, and they were led by a very talented singer and lead guitar player, John Fogerty! When they achieved stardom near the end of the 60's decade, they had actually been around for a long time. This is a band that got started way back in 1959, as The Blue Velvets, and then The Golliwogs. Finally they settled on Creedence Clearwater Revival, sometimes referred to as "Creedence," or just "CCR." By whatever name, these guys were good. For about 4 years, they played music and made lots of popular records, even though behind the scenes, they seemed to be fighting a lot. Most of the arguments were between John Fogerty and the rest of the group, which included John's brother, Tom, who even left the group in 1971, They finally disbanded altogether the following year, but not before leaving us with a whole bunch of great songs!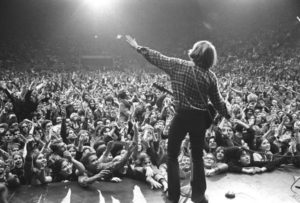 I love the way they did "Suzie Q." It wasn't their original song, but they put their own spin on it. Same goes for "I Put A Spell On You." Both of those were from their debut self-titled album. Then, the big hits came, starting with "Proud Mary." Then there was "Bad Moon Rising" part of a 2-sided hit, with a song called "Lodi." Later, there was "Green River," and "Commotion." "Down On The Corner," and "Fortunate Son," one of the all-time best war protest songs. There was "Traveling Band," "Who'll Stop The Rain," "Up Around The Bend," "Run Through The Jungle," and "Lookin' Out My Back Door." They even had a hit with Marvin Gaye's "I Heard It Through The Grapevine." Still to come were "Have You Ever Seen The Rain," "Hey Tonight," "Sweet Hitchhiker," and "Someday Never Comes," "Long As I Can See The Light" and more. Not a bad song in that whole group. Mostly, due to the songwriting talents and musicianship of John C. Fogerty, who apparently couldn't get along with his bandmates, but managed to make some great music all the while. I don't think the guys ever reconciled, either, through all those years, because when the group was inducted into the Rock and Roll Hall of Fame John Fogerty refused to perform with the other 2 surviving members of the group. It was all about songwriting credits, artistic control, and who knows what else, regarding the group, the record company, and whatever. I don't know, but they spent years going to court. It's kind of ridiculous, actually. I have no idea who's right and who's wrong, and never spent a whole lot of time thinking about it.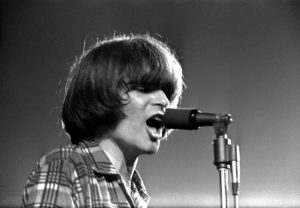 I was playing some CCR music in my car yesterday, and so I guess it's only natural that I woke up this morning with a Creedence Clearwater Revival number in my head. It's "Up Around The Bend," and now I'm putting it into your head!