4/3/19 – Rod Stewart and Faces "Stay With Me"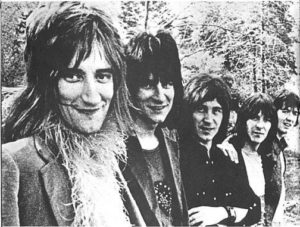 Get ready for some straight ahead rock and roll! Back in his heyday, nobody but nobody rocked any harder than Rockin' Rod Stewart. He was with Jeff Beck for a while, and then he got together with Faces, and an incredibly exciting band was formed! You probably already know that Ron Wood (now with the Rolling Stones) was the lead guitar player in the band, Other members were Ian McLagan, Ronnie Lane, and Kenney Jones…all were excellent musicians, who loved to rock out, and that's what they did. I think it was the very best phase of Rod's illustrious career.
Rod's still out there, but these days, he's not rockin' out so much as he's performing old standards. So-called adult contemporary stuff to appeal to an older audience. I guess he's appealing to most of the folks in my age range, but I don't think I would drive across town to see one of his shows these days. Back then, though, he could do no wrong. After he rocked out all over the world, now he's performing old standards, and still drawing big crowds; it's just not my cup of tea. The guy has had a remarkable career! He's sold over 100 million records! He's one of the top-selling artists of all time, all over the world! Let me throw out a few more numbers here. Rod Stewart has had 6 consecutive number one albums in the U.K. 62 hit singles, 31 of which climbed into the Top 10, and a half dozen of those spent time at number 1. He's had 16 Top 10 singles here in the states, with 4 of those reaching number 1. He's been knighted in England, just like Paul McCartney and Elton John. Billboard magazine ranked Rod as the 17th all-time best artist, and he's listed at number 59 on Rolling Stone's 100 Greatest Singers of All Time. Of course, he's also been in the Rock and Roll Hall of Fame for the last 25 years.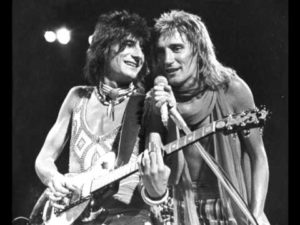 Faces always came across as a good-time, rowdy bar band, playing loud and loose. They always seemed like they were having the time of their lives when they were on stage, too…and with Rod Stewart out front there was never a dull moment. In 1971, the group put out an album called "A Nod Is As Good As A Wink to A Blind Horse," and it featured some raw, unadulterated rock. The fifth cut on that LP was a song called "Stay With Me." And since I heard that, all those years ago, I've never been the same. I'm sharing a live performance of the song in an effort to convey the sheer energy that went into one of their shows. Rod Stewart and his lookalike, Ron Wood, strut across the stage like a couple of roosters and I love it. Take a listen to "THE MUSIC IN MY HEAD" today…and "Stay With Me!"