4/2/19 – Steely Dan "FM"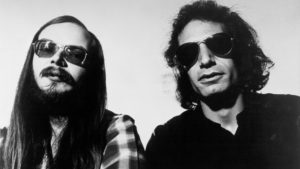 Steely Dan was a tremendously talented rock group and the guys had a lot of hit records in the late 70's and early 80's. Fans loved 'em and so did the critics, which is kind of unusual, actually. Sometimes it's s situation where an act has commercial success and the rock critics blast 'em for not doing more, or not creating something totally innovative every time out. Actually, Steely Dan was innovative! They combined rock with jazz and other musical elements, and it all made for a lot of great songs on several albums.
The name, "Steely Dan," really means Walter Becker and Daniel Fagan, for the most part. These 2 amazing musicians had a revolving combination of studio players around them, and what came out was brilliant. Their biggest hits were "Do It Again," (the one that started it all as far as mainstream success is concerned,) followed by "Reeling In The Years." And there was "Peg," "Rickki Don't Lose That Number," and "Deacon Blues." Also, "Hey Nineteen" and "My Old School," plus "Dirty Work," and "Black Friday," and so many more. But the one that's stuck in my head today is "FM," recorded in 1977, and released in 1978. It was the title song for a movie called "FM" about the inner workings of an FM album-oriented rock station. If you listen to the lyrics of the song it's really a bit critical of that kind of station, but the film was more of a celebration. So go figure. Walter Becker died about a year-and-a-half ago, but Donald Fagen is still going strong.