3/20/19 – Tracy Chapman "Give Me One Reason"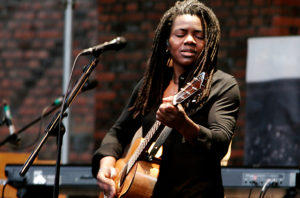 I woke up this morning to the sound of Tracy Chapman's voice! And she wasn't singing "Fast Car," which is her most famous song.
She's originally from Cleveland, and she was brought up by a hard-working single mom. When Tracy was only 3 years old, her mom bought her a ukulele, and that's how she started learning to play. Believe it or not, she once said she was inspired to play the guitar by watching the television show, "Hee Haw!"
In the late 80's, she signed a recording contract and it was on! Her first album came out in 1988, and it was acclaimed by the critics, and loved by the fans! The name of the album was "Tracy Chapman," and it got her 6 Grammy nominations, including one for "Album Of The Year," which she won. She also got Grammys for "Best New Artist" and "Best Female Pop Vocal Performance" for "Fast Car." Nothing like getting your career started off with a bang! She's gone on to put out 6 great albums, in all. One of my favorites is "Talkin' 'Bout A Revolution," which sort of echoes her career as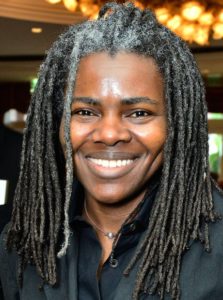 an activist, as well. She's a crusader for human rights, in particular, and has performed at a myriad of socially aware events, and she's played with legendary artists, such as B. B. King, Eric Clapton, and Buddy Guy. She's in her mid 50's now, and she's enjoyed a great career, and she continues to appear in concert to this day. I would love to see her if she ever comes around here! She's also gotten heavily involved with the elementary schools in Cleveland, her home town. She has done her best to encourage children to follow their dreams and she's all about highlighting great achievements in African American history. In other words, Tracy Chapman not only makes great music, but she also does great things in Cleveland, and all over the country. She's helped out with various good causes all over the world, too.
On Tracy Chapman's 4th album, she wrote and sang a song called, "Give Me One Reason." I love it, especially the bass line and there's some great guitar work. And Tracy's vocals, of course. That's "THE MUSIC IN MY HEAD" today. Check it out here!