3/14/19 – Delaney & Bonnie "Things Get Better"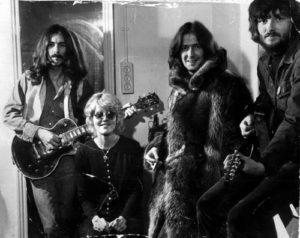 Delaney & Bonnie Bramlett sure knew how to rock and roll! I've been listening to a lot of Delaney & Bonnie music in my car lately, and I guess it was only natural that I woke up with one of their songs in my head to start the day this morning. And what a great way to wake up! Delaney & Bonnie were a great musical couple in the late 60's and early 70's… and they made some great memories together for those lucky fans who got to see them in concert. It was a rolling rock n roll extravaganza whenever DELANY & BONNIE & FRIENDS got together. If you don't know about them, just listen to the "friends" part of the act. Eric Clapton and George Harrison were both with them on stage most of the time. Also coming and going, they had Dave Mason, Duane Allman, Gregg Allman, Leon Russell, Rita Coolidge, King Curtis. Bobby Whitlock, Gram Parsons, Bobby Keys…and the list goes on and on. Some pretty impressive friends, don't you think? Only some of the very finest musicians on the planet! These legendary artists appreciated being with the Bramletts because they knew they were going to have a good time….just playing for the joy of making music. Entertaining the audience, and enjoying themselves. For Clapton and Harrison, in particular, it was a bit of an escape from the pressures of the big time music business. Harrison, of course, had just been through several tumultuous years under the microscope with The Beatles, and his best friend, Clapton was going through all that "Clapton is God" stuff back then, and while he loved playing his guitar, he didn't crave being in the spotlight. He and George could just relish playing without being the center of attention, and they loved every minute of it.
Delaney Bramlett was a really talented singer/songwriter/musician who loved just about every kind of music… and his wife, Bonnie, had an amazing voice and a great stage presence. She could rock and roll with the best of 'em, but she also possessed the strength of a gospel singer, complete with an indomitable spirit. I'm kind of partial to Bonnie. It's fun just to listen to her voice. And she brought soul to the equation, too. After all, she was a member of the Ikettes for Ike & Tina Turner for a while. She was the only white person to ever claim that honor. This cavalcade of rock and roll stars recorded an album based on all those stage performances, called "DELANEY & BONNIE & FRIENDS ON TOUR WITH ERIC CLAPTON," and the lead cut on that sensational album is an incredibly bright and positive tune called "THINGS GET BETTER!" That's THE MUSIC IN MY HEAD today!