11/5/18 – Disturbed "The Sound of Silence"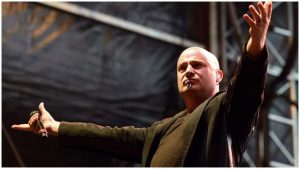 Today's edition of *THE MUSIC IN MY HEAD* is a little different. I recently played "The Sound of Silence" by Simon & Garfunkel on my Facebook page, because I think it's one of the best songs Paul Simon has ever written. And that's really saying something because Simon has written some wonderful songs over the years, with always great melodies and meaningful lyrics. He's one of the premiere songwriters of our time! Some of his songs have been covered by other artists, and that includes this song, too, covered by an unlikely band. About 3 years ago, DISTURBED took a crack at it, and it's absolutely powerful and downright mesmerizing. It's a completely different version of this great song, and it demonstrates the amazing talent of a group that normally plays heavy metal music. This rendition is thoughtful and delicate, and incredibly powerful at the same time. You've got to hear it to understand what I'm talking about.
Disturbed is a band with songs like "Down With The Sickness," "Stricken," "The Vengeful One." "A Reason To Fight," and "Another Way To Die." Not exactly mellow mood music. The lead vocalist is David Draiman. And this guy has a really strong, versatile voice. He shows it on this song. It starts out with just a piano and a really soft, but strong delivery from Draiman. And he goes on to exhibit amazing control of his voice… starting out low, and reaching for the high notes toward the end. What can I say? It's dramatic. And it's POWERFUL. That's the best way I know to describe it. This interpretation of the song has really touched a nerve with a lot of people. It's been viewed more than 450 million times on YouTube! More than 1.5 million digital downloads have been purchased! And the song has been streamed over 54 million times! Those are some really healthy numbers. Even Paul Simon got in touch with Draiman to tell him how much he liked the way Disturbed did it. Draiman was blown away by Simon's reaction and told Simon how much he appreciated his amazing songwriting talent!
As I said before, it was certainly a change of pace for Disturbed. The audio and the video are dark, but you've got to take a few minutes to listen! If you've never heard it, well, then, you're about to be blown away. At least, I think so. This is "The Sound of Silence," by Disturbed, and it's today's edition of "THE MUSIC IN MY HEAD!"