1/30/19 – The Beatles "Don't Let Me Down"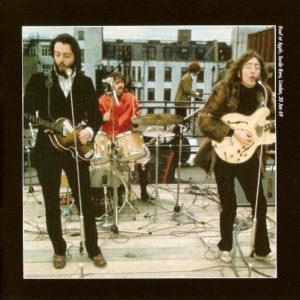 Today marks the anniversary of a special piece of rock and roll music history! It's the 50th anniversary of The Beatles famous impromptu rooftop concert! Some of the footage showed up in the 1970 documentary, "Let It Be," and it turned out to be the very last time the Fab 4 would play in public as a group. John Lennon, Paul McCartney, George Harrison, and Ringo Starr were joined on the roof by keyboardist, Billy Preston…and they played for about 45 minutes.
The concert totally surprised the people down below, many of whom stopped to listen, and craned their necks to see what was happening on the roof of Apple headquarters on Saville Row in central London. This officially marked the end of an era for fans, who had witnessed, over a period of just a few years, the most influential band in history, change the world with their songwriting, their creativity, and their recordings. The Beatles actually went on to record another album, which was "Abbey Road" but by September of that year, they had officially broken up. Heck, most of the tracks on the "Abbey Road" album (my favorite, by the way) consisted of mostly individual efforts, and not much collaboration with all 4 guys. The album, "Let It Be" was released last, even though it was recorded earlier, if that makes any sense. And, by "last," I mean except for all the compilations and greatest hits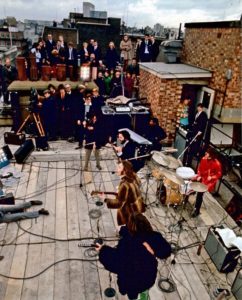 stuff that came later. A good way to remember the order is this: The great majority of the "Let It Be" recording sessions were already in the can, before anybody even started working on the "Abbey Road" songs.
So all the music on the roof was the last public performance by The Fab 4, even though it wasn't the last time they made music together in the studio. No matter, the show on the roof was really cool, and I'm just going to share one of the takes of "Don't Let Me Down." (They did it twice while they were up there.) It's a "John song" all the way, and it's said to be a tune he wrote for Yoko. Take a moment, also, to notice their buddy, Billy Preston on keys. He was sometimes referred to as "the 5th Beatle" because of his valuable contributions to their music. You'll see a couple of glimpses of him in the video, and you can certainly hear him throughout. Enjoy this fun performance! And just think! It was 50 years ago today. January 30th, 1969….a mighty monumental day in music history!