1/10/19 – Buckingham Nicks "Long Distance Winner"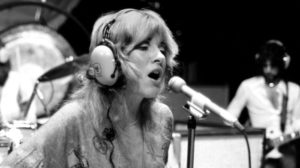 I've got a real gem for you today. I'm a big fan of both Stevie Nicks and Lindsey Buckingham. In late 1974, they were hired by Mick Fleetwood, to join Fleetwood Mac. Up to that point, Fleetwood Mac was primarily a British blues band, but with the addition of Lindsey and Stevie, their sound changed dramatically. The couple had been struggling to make it in the music business, playing in a band called Fritz out on the West Coast, and then performing as a duo. Both were already prolific songwriters, with enough commercial appeal to alter the future of Fleetwood Mac in a big way. Fleetwood was in California, searching for some recording space, and at the same time, looking for a new lead guitar player. He was struck by a demo of Buckingham's work, immediately made plans to talk to Lindsey about coming into the group, and he accepted the invitation—with one condition. The offer had to include Lindsey's girlfriend, Stevie. To make a long story short, they both were hired, and the rest is history.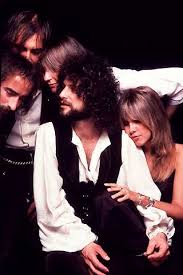 Before joining, the couple had recorded an album, creatively enough, called "Buckingham Nicks." The album was excellent, but hardly anybody heard it. Naturally, hardly anyone bought it. (Wonder why?) Polydor, the record company did very little to promote it, and soon dropped them from the label, frustrating the two young musicians to no end. They had achieved some major success in the state of Alabama when they performed there, but outside of that, there wasn't a lot happening. That's when Mick Fleetwood appeared, offered them a job, and we all know what happened next.
Any fan of the band knows that the two have had a contentious, on-again, off-again relationship through the years. They've loved each other and hated each other. No need to go into all that. It's pretty widely known also that the song, "Go Your Way," written by Buckingham, sums up their relationship well. And they've gone their own different ways now, too, since Stevie and the rest of the band are touring right now, and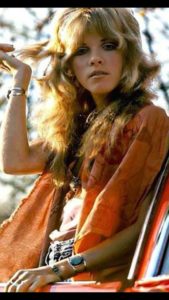 Buckingham isn't part of the act. He's in the middle of a solo tour. He was replaced in the band by Mike Campbell, Tom Petty's lead guitarist for decades, and Neil Finn, the front man for Crowded House. Even with two guys, it's impossible to replace Buckingham, though, who's not only a great songwriter, a tireless singer, and a guitar player of incredible skill.
The album, "Buckingham Nicks" is really hard to find. To me, it's one of the great musical mysteries why it hasn't been re-released. Out-of-print vinyl copies are hard to find, and very expensive if you locate one for sale. No official CD's, no official downloads on the internet, no I-tunes copies, either. I'm convinced there are enough fans out there who would purchase one hell of a lot of copies! I had it on vinyl many years ago and listened to it all the time, but I don't know what happened to that copy. Just a few years ago, a good friend of mine burned a copy on CD for me, and about a year ago, my wife, Bev found a vinyl copy and bought it for me. I still don't know how much she paid for it, but I'm sure it wasn't cheap!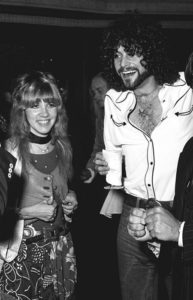 The Buckingham Nicks album was recorded in 1973. Listen to it and you'll hear some good indications of the Fleetwood Mac sound that would later develop. It's an awesome album, and there are several cuts on it that I love. Songs like "Crystal, "Crying In The Night" "Races Are Run," and "Frozen Love." Honestly, there's not one single bad track on the whole LP. There are some songs that are clearly Lindsey Buckingham creations…and others, you can tell were written by Stevie Nicks. It's amazing stuff. This particular song that was playing in my head this morning is one of Stevie's. It's called "Long Distance Winner." I hope you enjoy it.