8/10/18: Rufus "Tell Me Something Good"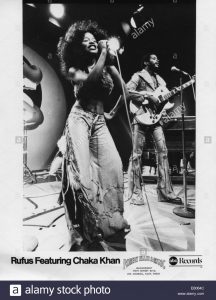 People were chanting her name when she became a solo superstar, but the incredibly talented Chaka Khan got her start as part of a group! That's where the song in my head today comes from: the era when the one-and-only Chaka Khan wasn't a household name just yet – even though it didn't take her too long to get there.
"Rufus" was the name of the band, and they were a high-flying funk outfit straight from Chicago. They're mostly known today for launching Khan's career, but that story leaves out how Rufus was one of the most exciting and influential funk bands to come out of the late '70s. They put out some hit records, starting with one you definitely know: "Tell Me Something Good." Rufus was also one of the first groups to make use of the "talk box" with a guitar, and you still hear their influence from songs like "Sweet Thing," "Ain't Nobody" and "Do You Love What You Feel" in music today. Rufus scored four straight #1 albums on the R&B charts, along with ten different songs that all spent time on the Billboard Top 100.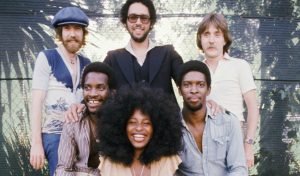 The group was known as "Smoke" before they changed their name, and the whole '70s decade wouldn't have been the same without them. You could certainly say the same about Chaka Khan, too, who went on to huge success on her own when she left the group. She's been called "The Queen of Funk" and has a staggering ten Grammy awards to her name, along with sales numbers well over 70 million records moved worldwide. She's a frequent collaborator, a funk innovator, and even ranked #17 in VH1's list of "The 100 Greatest Women of Rock and Roll." She's 65 years old now, but she can definitely still bring the heat!
I didn't know who Chaka Khan was until 1974, the year when I first head "Tell Me Something Good." That song certainly caught my attention, especially when I saw the video. A 21 year-old Chaka absolutely commanded the stage, and made Rufus a wonderful band to watch. So, enjoy today's music… and get a lil' bit funky!