7/23/18: The Chi-Lites "Oh Girl"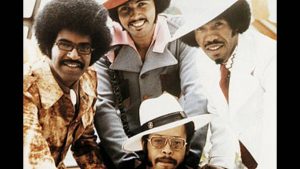 I've got a little old-school soul music for you today! It's from the Chi-Lites, a vocal quartet out of – you guessed it – Chicago! The Chi-Lites actually got started as a group close to five decades ago, but it wwas during the early and middle '70s that they really made their biggest impact on the music world.
They had so many hit records that it was amazing! 21 in all hit the Billboard Top 40 charts, and nine of those landed inside the top ten on the R&B charts. The Chi-Lites were not just big in the States, either… they also found a huge audience in Australia, Ireland and even Canada! People just loved their harmonies, and the tales they told about love and heartache really resonated. A guy named Marshall Thompson was there way back in the beginning, and he's still singing with the group at the age of 75. Probably the best-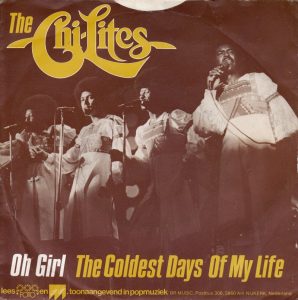 known lead singer was Eugene Record, who died 13 years ago. The Chi-Lites have had a lot of members of the years, and a lot of people have contributed their own unique set of talents and stories to making the band one of the greats.
During one particularly explosive hit-making period, the Chi-Lites put a lot of great tunes out there. There was "(For God's Sake) Give More Power To The People" which really sounded more like one of those socially-conscous tunes by the Temptations, like "Ball of Confusion," for example. Most of their songs were more mellow, though, including my all-time Chi-Lites favorite: "The Coldest Days Of My Life."  And there was a tale of lost love called "Have You Seen Her."  The song I woke up with this morning, though, was a #1 song called "Oh Girl."  So let's roll it now, a great group out of The Windy City, Chicago's own Chi-Lites!